By Kenton X. Chance
The government of St. Vincent and the Grenadines says it will pass laws to outlaw the killing of orcas, after fishermen killed two of the marine mammals in the presence of a whale-watching group last week.
The killing last week of the two orcas — commonly called killer whales – bring to six the number of the dolphins known to have been killed in St. Vincent since July 2015.
Prime Minister Ralph Gonsalves said Tuesday that the law to be introduced by his government will be in keeping with an international ban that the country signed on to years ago.
Gonsalves made the announcement on radio five days after the two orcas — which were among a pod of four — were killed while being watched by some 40 cruise ship passengers on a whale and dolphin watching tour with a local operator.
The story generated much discussion after it was published by iWitness News Tuesday morning.
Thomson Cruises, owners of TUI Discovery, the cruise ship on which the tourists arrived in St. Vincent, have since cancelled all of its whale and dolphin watch bookings with Fantasea Tours — the local operator that conducted the tours last week — has told iWitness News.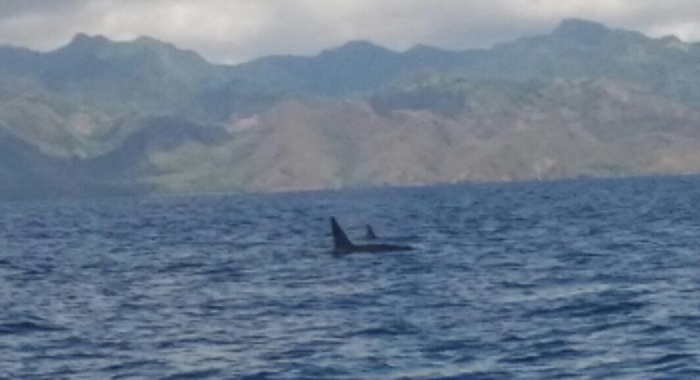 Speaking on Boom FM on Tuesday, Gonsalves said that "the person or persons who were involved in killing the two 'killer whales', the orcas, … is a very hard working fisherman.
"But what he did was plain wrong. What he did, I want to emphasise this, what he did was plain wrong. Not just because it happened in front of tourists, but [because] he must not kill the orcas."
He said there are regulations, adding that a few weeks ago there was a pre-budget discussion including fisherfolk, some of whom are from Barrouallie.
In Barrouallie, a town on St. Vincent's west coast, short-finned pilot whale, known locally as "Black Fish" are hunted regularly and are widely consumed across the country.
The prime minister, however, noted that there is an international ban on the killing of bottlenose dolphins, and killer whales and SVG has signed on to the ban.
He further noted that four killer whales were killed in the Central Leeward town in July 2015.
"And the fourth one, they had so much meat that some of the meat spoiled," Gonsalves said.
"Now, some people are allowing their greed to get the better of them," the prime minister said, adding that some have claimed that mixing killer whale and pilot whales meat makes it tastier.
"That's what people say. I don't know. I don't eat it. I don't eat whale either — that is to say, the humpback whale that they catch off Bequia.
"What has been happening here, I intend to let [Minister of Fisheries] Saboto [Caesar] continue the discussion which he started," the prime minister said, adding that Caesar went to Barrouallie after the consultation and spoke to the fisherfolk.
"And they understood. The report I got is that the meeting was very positive and then they gone ahead — at least one person or two persons, gone ahead and do this foolish thing, wrong thing."
iWitness News understand that at least three fishermen were in the pirogue from which the orcas were killed using a harpoon gun, which is made from a modified shotgun.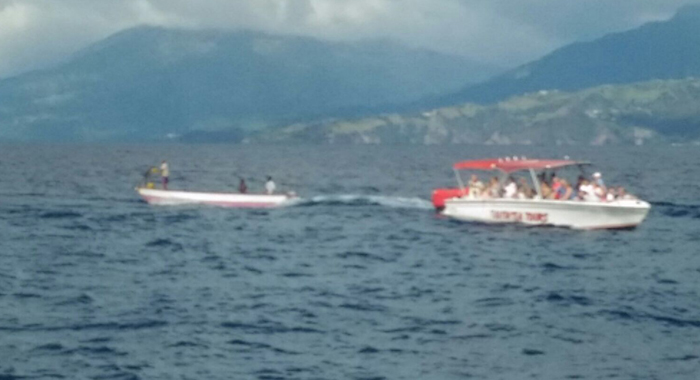 Gonsalves said that his government would take a stand legislatively against the killing of prohibited species.
"What will happen is that legislation will be brought to stop that killing. It will be made an offence in the same way we have done with turtles," said Gonsalves whose government has banned the killing or turtles, harvesting of their eggs or disturbance of their nest, effective Jan. 1, 2017.
The prime minister said that he is sure that the vast majority of residents of Barrouallie "are upset with what that particular brother did.
"And I am saying that that brother is a hard working fisherman. I like him but I can't like what he do there.  And I am urging all who are involved in these tours to understand the position of the government and to have it transmitted. We are interested in conservation. One of the things which we shouldn't allow — our tourist friends, they shouldn't have a kneejerk reaction. They should also listen to voices like the one I'm speaking [in]."
iWitness News understand that the visitors on the whale watching tours were so disturbed by the killing of the orca that some of them cried all the way back to Kingstown, where their cruise ship was docked.
Gonsalves seems to pre-empt the defence that whaling is part of the Vincentian tradition.
"It is important for us to say that we have our traditions and we need to keep traditions, but we can't keep traditions out of sync with the rest of the world or have those traditions continue in a manner which is injurious to us.
"Otherwise, if you think you are an island onto yourself, you will end up with what is called autarchy, which means a splendid self-reliance. But we can't have a splendid self-reliance because we wouldn't have motorcars, we wouldn't have cell phone, because we don't produce them.
"So, this splendid isolationist self-reliance and a chauvinistic disposition towards tradition," Gonsalves said.
The prime minister said the killing the orcas was unnecessary because he understands that just the week before, the whalers killed six pilot whales.
"About the market, I am told, there was an abundance of blackfish. But it is precisely that kind of a wrong-headed action, which would spur action to curb that kind of wrongheadedness. We want to make sure that the traditional black fish trade continues in relation to the pilot," he said.
The killing of the orcas has intensified the discussion about whaling in St. Vincent and the Grenadines, including on the northern Grenadine island of Bequia where whalers caught a humpback whale mid-March as part of a tradition that began in 1875.
SVG is allowed to catch four humpback whales every year, but actually catches an average of one humpback whale every two years.
Cruise ship cancels bookings after whalers kill orca in front of guests in St. Vincent