Two Anglican priests celebrating 40 years since their ordination have been urged to deal with "real issues", including financial and political ones, and same sex marriage.
"Our people are struggling with real issues, financial, political, sexual and otherwise. One of the great conversations that priests need to raise up today is this issue of same-sex marriage," Rev. Canon S. Sebastian Campbell said during a service at the Calliaqua Anglican Church on Aug. 7.
The service, which was attended by Governor General Sir Frederick Ballantyne, and Minister of National Mobilisation, Frederick Stephenson, and Member of Parliament for East Kingstown, Arnhim Eustace, among other dignitaries,  marked the Ruby Jubilee of the Priestly Ministry of Rev. E. Ulric Commissiong-Jones and Ven. Jonathan Everton Weekes.
"Keep on your feet, my brothers, because it applies to active ministry in leading the people, in dealing with current issues, and take our proverbial head out of the sand," Rev. Campbell urged the two priests.
"The church is afraid to deal with real issues and, therefore, many times, we miss doing ministry," said Rev. Campbell, who is from the Anglican Diocese of The Bahamas and the Turks and Caicos Islands.
"And we must take our heads out of the sand and allow our people to have a conversation so that we will know where God is taking us. We need priests who will be proactive in dealing with real issues," he further urged.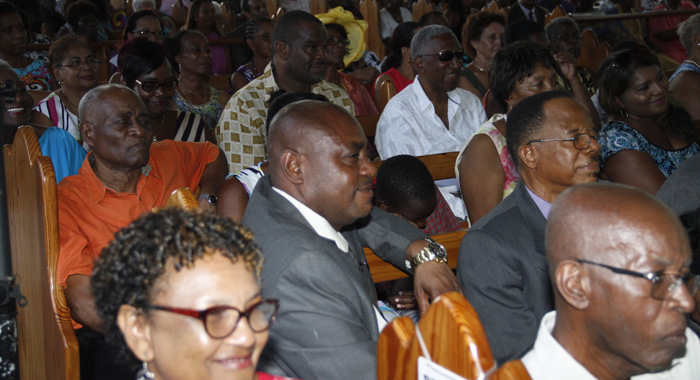 He said that when Jesus commissioned his followers "Go and make disciples of all nations', He meant what he said: 'all nations'.
"The straight people, the gay people, the lesbian people, the homosexual people, the blacks and the whites, Anglicans, Baptists, Roman Catholics, Moravians, Church of God, you've been called to minister [to] the rich and poor, to Labour and to the NDP. You've been called, male and female, you have always understood this my brothers; to this holistic approach. Let your ministry go on in this way," Rev. Campbell said.
He said Anglican priests must always bring members of the communion to acknowledge that Jesus is head of the church.
"It's a mission that never ends, because the church, always, goes astray from this mission of being Christ-centred and we must always, always bring it back again," he said.
Campbell urged the priests to inspire the renewed ministry of the church.
"If there is one thing the Anglican Church needs is renewal. Have you ever heard that the church is dead? I have heard it and one reason the church is dead is because dead people come to church and within this church, this ministry to which we have been called in your promised land, is one of intentional renewal of our Anglican church."
He further urged the priests to continue, "as long as you can, reminding men and women that they have a soul to save.
"Go, building up people, building up families, because families today seem to be like old brother Humpty Dumpty, who sat on a wall and old brother Humpty Dumpty who had a great fall and all the king's horses and all the king's men, all the political forces cannot bring it together again because he needs Jesus. All people need Jesus, the church needs Jesus and we must keep the church focused on Jesus, who can put it back together again."
He said that for too long, the church has taken its focus off Jesus and forgot that Jesus is the head of the church.
Regarding the milestones reached by the clerics, Rev. Campbell said:
"Forty years is symbolic of testing, trials and probation. Forty years is a generation. Forty years Israel journeyed on to their promised land. During these 40 years, God had to weed out these people. In 40 years, some of these cantankerous people had to die; some of these backbiters had to go; in 40 years, some of these troublemakers had to be converted or disappear. Those persons who caused Moses to miss the Promised Land, they had to go, therefore, God kept them marching for 40 years on their feet. The way was clear and God was now ready to give those who are faithful their reward."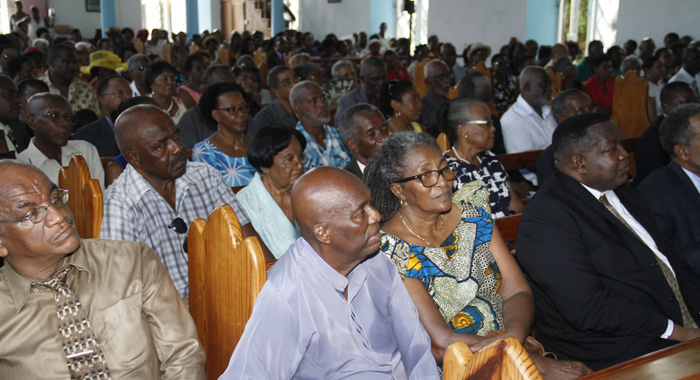 He noted that the reward was the Promised Land and asked the two priests what is their reward.
"More work. Keep walking, my brothers," he said.
"Walk and run," Rev. Campbell said, adding, "If you are in the battle for the Lord and right, you must keep on the firing line. Walk it, run it."
He said that the Anglican Church needs more priests across the province, adding that Jones is being appropriately placed because the harvest is plentiful and the labourers few.
"So, my brothers, go and raise your vocation, and Ulric, in that calling that you have, among your lands, see it as God's call in this, your promised land. We need vocations to the priesthood. Thank God for those who inspire you and raise you up," Campbell said.