Prime Minister and Minister of National Security, Ralph Gonsalves, says that the acting Commissioner of Police should have consulted with police officers before deducting monies from their salaries to go towards disaster relief.
Some members of the Royal St. Vincent and the Grenadines Police Force complained to iWitness News after the police chief issued a memo saying, depending on their rank, EC$20 or $50 will be deducted from the salaries, to aid their colleagues in the Leeward Islands who were affected by recent storms.
The officers say that they do not object, in principle, to donating, but disagreed with the manner in which it was done.
Asked about the development at a press conference on Monday, Gonsalves said that a member of his security detail told him about it around 1 p.m. Saturday when he was going to the airport to fly to Venezuela.
The prime minister, who returned to St. Vincent on Sunday, said he did not get a chance to talk to the acting Commissioner of Police, but he asked the officer how it was done.
"He said they did it by a Force order," Gonsalves said.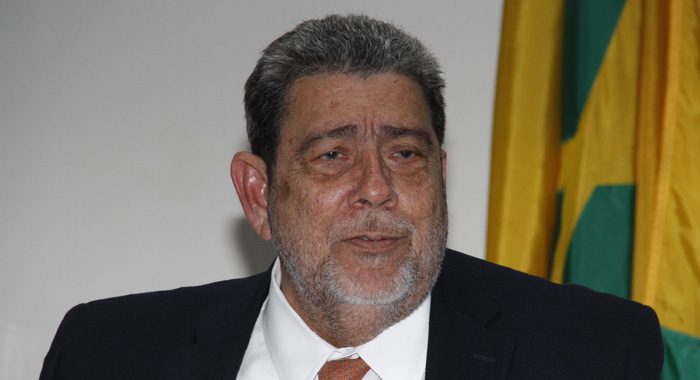 "I haven't studied the law, the specific point as to whether he has the authority to do it. I don't know. But clearly, in circumstances like this, it would be preferable to have — if even you have the legislative authority, I would have thought — I haven't spoken to him and I don't want to second-guess him, it would be a wise thing to have a form go to all the policemen to say would you consent to this…" said Gonsalves, who is a lawyer and is also Minister of Legal Affairs.
"I don't believe, I don't think that if you send a letter to get a consent, I think over 80 per cent of the police would sign saying, yes, make the deduction."
Gonsalves said he does not think that the policemen, as a whole, would be mean-spirited.
"Of course, they may well be challenging whether he has the legal authority and it is not an unreasonable question to raise: 'Do you have the authority to do it?'
"… I haven't looked it up but I intend to ask. Possibly, it might have been done before, ages ago, and nobody raised any questions."
The prime minister said: "Constitutionally, a person's property is protected, save and except under certain circumstances. You can interfere with it for a levy by the state, a tax and various things. I can't recall and I don't like, as a lawyer, if I haven't looked at something — but whatever the legal situation, clearly, I it [is] better in things like these, I would think, for it to be voluntary," he said.
Correction: iWitness News understands that acting Commissioner of Police, Renald Hadaway has been on leave since Sept. 4, 2017. Therefore, while the prime minister spoke about the "acting Commissioner", it is unlikely that the decision was made by Commissioner Hadaway. We have updated the story accordingly and regret any inconvenience caused.