The woman who, this month, told iWitness News that she believes that her lover restrained himself from chopping her because she was holding a 2-month-old in her arms, has chosen not to testify against the man.
The woman, 33-year-old Jesgil Letteen of Diamonds, originally of Chapmans, told the Georgetown Magistrate's Court on Tuesday that she no longer wished to proceed with the case against her lover, Andel Muckett, whom she has told iWitness News beat her savagely on Sept. 4.
When the case against Muckett was called on Tuesday, Letteen told the court, "It was my mistake" and that she no longer wanted to proceed against the man with whom she has shared a relationship for the past seven years.
The woman, who was denied a secondary education after her father refused to send her to the Girls' High School two decades ago, told iWitness on Sept. 7 that Muckett had beaten her with a cutlass twice on Sept. 4 in San Souci, resulting in a wound to her head.
The incident reportedly occurred at a shop belonging to Nyaka Richardson.
"Last night, he ah gi' (give) me a whole heap a stinking wud (hurtful words), me gi um (him) back wud, the girl call police because he lash me in me head with a cutlass," Letteen had recalled in an interview with iWitness News one day later.
The mother of two told iWitness News that she had tolerated the abuse over the years because she had nowhere to go as she was practically homeless.
During the Sept. 6 interview, Letteen vowed to iWitness News that having secured a place to live, that was the end of her abusive relationship.
But Richardson told iWitness News on Wednesday that Letteen stopped sleeping at her house a few days after the interview.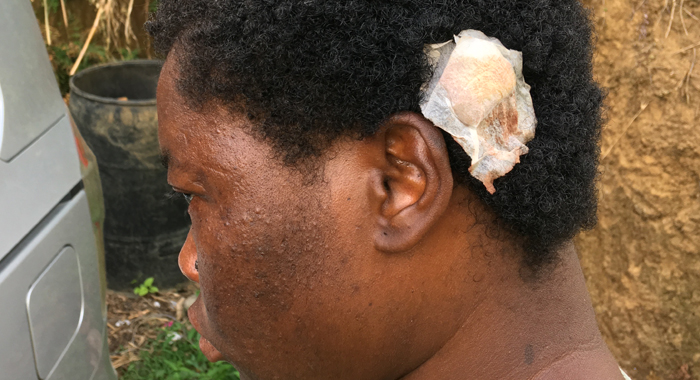 Letteen had been offered lodging by Richardson, whose sister, Monique Clarke, 44, died in hospital on Aug. 22 of the burns she sustained when her boyfriend, Pedro Ashton, 33, reportedly set her afire after she denied him money and sex.
Ashton has been charged with murder in connection with Clarke's death.
The Crown has also brought a charge of damage to property against Ashton in relation to furniture in Richardson's shop that he reportedly damaged by tossing them outside and chopping other pieces with a cutlass.
Richardson told iWitness News that the day after Muckett secured bail, he came to her house asking both she and Letteen to forgive him, saying that he did not want to go to jail.
She said they both told the man that they were going to go ahead with the charges.
However, Richardson told iWitness News that she heard that on the night of Sept. 9, Letteen and Muckett were very intimate at a football event.
She further said that it was rumoured that Letteen had told other members of the community that Richardson was involved in untoward activities related to the dark arts.
Richardson said she confronted Letteen about the rumours and told her that she would have to find somewhere else to stay.
Letteen had already stopped sleeping at Richardson's place by then.
Richardson told iWitness News that she plans to follow through with the charge that the Crown has brought against Muckett.