Police on Tuesday shot and killed a man they said was a suspect in the March 15 robbery at Heritage Square that left two persons nursing bullet wounds.
Acting Commissioner of Police, Colin John told iWitness News that police were on mobile patrol in Gibson Corner around 3:45 p.m. when they saw suspect Raphael Chewitt, also known as "War Teacher".
John said Chewitt — who was originally from Glen — appeared to have seen the police officers and began to run.
Police alighted their vehicle and gave chase and the man ran into some bushes.
The officers pursued the man, who reportedly brandished a pistol.
Police opened fire, striking the man in the chest and arm, the police chief said.
He was pronounced dead on arrival at the Milton Cato Memorial Hospital, where he was taken after the shooting.
The police chief said that police recovered a .45 semiautomatic pistol, eight rounds of .45 ammunition and portions of cocaine and marijuana.
Police in March arrested Rockies man, Kishorn Jackson, 26, and charged him that on March 15, 2018, at Heritage Square, Kingstown, he attempted to murder Errol Hinson of Enhams and Veron Williams of Kingstown Park.
Jackson was also charged with conspiracy to commit robbery at Heritage Square, also on March 15.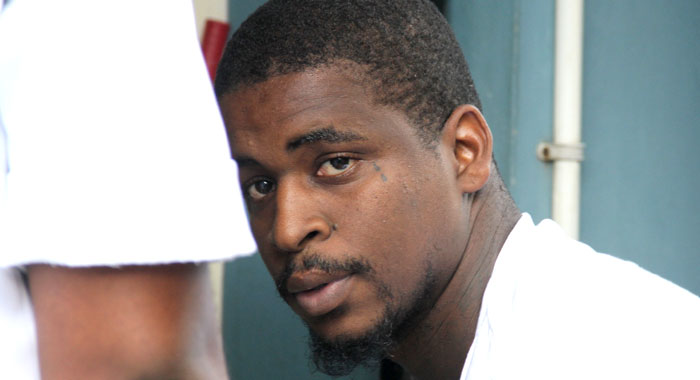 Hinson, 69, a security officer, received a gunshot to the left side of his jaw, while Williams, 43, of Kingstown Park, was shot in the left side of her back when a gunman attempted to rob the Lotto booth at Heritage Square.
Jackson was denied bail for two weeks while the virtual complainants in the matter were still in hospital.
Chief Magistrate Rechanne Browne-Matthias granted him EC$40,000 bail with one surety in early April.
Jackson was also ordered to report to the Central Police Station on Mondays, Wednesday, and Fridays between 6 a.m. and 6 p.m.
The next hearing in the matter is slated for June 28, 2018.
Jackson was nabbed at the Milton Cato Memorial Hospital where a vehicle dropped him off with an injury to his leg the morning after the robbery.
Law enforcement sources say that Jackson is believed to have injured his leg as he tried to evade police officers who had pursued him on the night of the robbery.
He was nabbed when police were summoned to the hospital after he reportedly became aggressive towards hospital workers as he demanded immediate medical attention.
iWitness News understands that while Jackson was charged with the crime, police were working with several theories about his actual role in it, even as they pursue additional suspects.