Already serving a four-year jail term for burglary, Moneesh Davis, on Thursday, begged Senior Magistrate Rickie Burnett for mercy while he was being sentenced for two other burglaries.
But Davis was faced with two major challenges: The magistrate noted that the burglar had not shown any mercy to Ruthlyn Sam, whose store he burglarized on Dec. 17, 2017.
Further, Davis had appeared before a magistrate who did not need his criminal record to be presented to the court to know of his proclivity to criminality.
On March 20, Davis was sentenced to four years in jail for his December 2017 burglary of Gibson Construction Ltd.
Last Friday, he pleaded guilty to a charge that on Dec. 17, 2017, he burglarised "D's Intimate Selection", a store located on the top floor of Baynes' Building in Kingstown.
The man also pleaded guilty to a charge that on Dec. 21, 2017, he handled property stolen from the said store and belonging to Sam.
Another charge was that on Dec. 17, Davis committed one count of theft from "Playtime Store", a toy and party supplies outlet in Kingstown, owned by soca artiste Gamal "Skinny Fabulous" Doyle.
The court heard that on Dec. 16, 2017, Sam secured her business place and left around 2:25 p.m.
On Dec. 18, around 7:40 a.m., she received a call saying that the store had been burglarised.
When she arrived at D's Intimate Selections, she met the door open, the contents ransacked and items missing.
Sam went to the Criminal Investigations Department in Kingstown to file a report.
There, she saw the defendant and noticed that he was wearing some of the items missing from the store.
Davis was topless, and Sam noticed that he was wearing a pair of boxer shorts that she recognised as identical to those that she stocks.
She had handed over to police the sole of a shoe, and police found that the shoe Davis was wearing was missing a sole.
The sole that Sam handed over to police matched the shoes that Davis was wearing.
The court further heard that about 3 p.m. on Dec. 18, 2017, Lorna Patterson, who works at Playtime Store, opened the business place and put a monster truck at the entrance.
She later found the truck was missing.
The store has surveillance cameras and a review of the footage showed Davis crawling up to the store on his back, removing the truck and sliding down back into the store.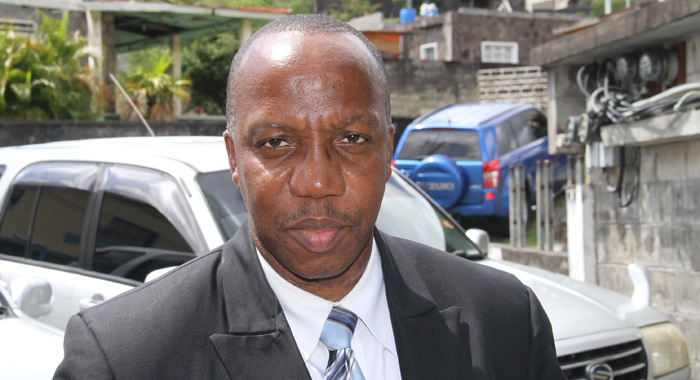 When Davis' criminal record was presented to the court, the magistrate asked the prosecution, "What are you giving me here? This is not the record of the Moneesh Davis I know."
He pointed out that the criminal record did not include some of Davis' most recent convictions, including the one for which he is currently serving time.
"Well, I don't have to see his record," Burnett said, saying that he was very familiar with Davis' criminal history from his (Burnett's) time as magistrate in Biabou.
Davis asked that when deciding on his sentence, Burnett consider his guilty plea and the fact that he is serving a four-year jail term.
The burglar further asked the magistrate to have mercy on him.
"I have been talking to you," Burnett said and recounted his interactions with Davis at a defendant in the Biabou Magistrate's court.
"I cannot have mercy on you," Mr. Davis. "You had no mercy on the lady here," the magistrate said, referring to Sam, who was in the plaintiff's dock.
The magistrate noted that Davis had stolen over EC$5,000 in items and was in no position to pay.
The magistrate further said that he was not likely to give Davis a concurrent sentence.
The prosecution agreed, saying that the crimes were committed on different days and locations.
"You have been doing this thing for too long, Mr. Davis," the magistrate said and told Davis that he could go to the Court of Appeal and tell the judges why the magistrate was wrong in not sentencing him concurrently.
He jailed Davis for four years for burglarising D's Intimate Selections and nine months for handling stolen goods. Those sentences will run concurrently.
The man was also jailed for nine months for stealing the truck from Playtime.
"I hope this is the last time you are appearing before me, Mr. Davis," the magistrate said.