Lawyers for Prime Minister Ralph Gonsalves have written to NICE Radio, demanding EC$300,000 in damages for statements a caller to the station made during a broadcast of the main opposition New Democratic Party's "New Times" programme on April 13.
Station manager and owner, Douglas De Freitas made the announcement in his daily commentary Monday morning, just under a month after he apologised to Gonsalves after being made aware of the caller's comment.
The caller, said to be based in Canada, had claimed to have document proving certain financial allegations against the prime minister.
On Monday, De Freitas, who has expressed frustration with the number of lawsuit the station has had to defend and damages it has had to pay, raised questions about the caller's intention.
He further said that Gonsalves, his cousin, had demanded that the station pay EC$300,000 in damages, notwithstanding his written and oral apologies.
"… I have apologised to Dr. Gonsalves, both in writing and over the airways. But Gonsalves' hatred for myself, NICE Radio, and democracy means that he is intent on persecuting and prosecuting me and this must be noted," said De Freitas, who is a staunch critic of Gonsalves and his Unity Labour Party administration.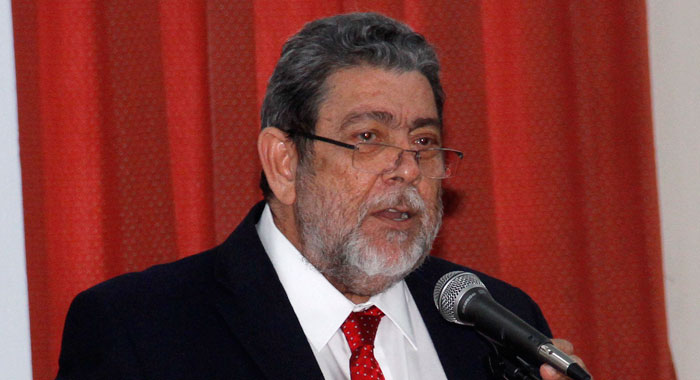 The caller had claimed that he had information proving an allegation that had been made against Gonsalves during the campaign for the December 2015 election.
"Dr. Gonsalves had refuted this and said he was requesting of the U.S. State Department to investigate the matter and over a year has passed and the nation has not heard a word from Dr. Gonsalves on this was-to-be investigation. Not a word," De Freitas noted.
"The caller lives in Canada and was known as a supporter of the ULP and Dr. Gonsalves. So one must ask the question, 'Was this a set up? Was it a set up?' Another question [that] needs to be asked is, 'Why is my family, immediate and my siblings alike, are targeted to be destroyed?' Is it because we don't support the socialist politics of Dr. Gonsalves who is our cousin?"
De Freitas said that the government acquired a property owned by his brother, Marcus De Freitas, and paid him one quarter of what it was worth.
He said the High Court has confirmed that the government undervalued the property and ordered full compensation.
"To date, that has not been resolved and my brother and his family have suffered both emotionally and financially. My brother, as you know, was once a minister of the government in the Sir James Mitchell's NDP administration. He's now actively a minister of the gospel and has given up on politics.
"This latest mountain before me and my family has to be seen as sheer hatred, founded on the paramountcy of a political party called the ULP, headed by Dr. Gonsalves.
"Am I not to criticise rape, sexual assault, sexual harassment that has seen senior politicians unable to visit countries without being protested against? Also, the inability to travel to friendly — countries to Canada?
He said that while he has apologised for the caller's comments, "they pursuit is because 'You all continue to have people criticising me on your radio station and criticism the government'.
"Is it not fair to criticise the destruction of our economy, agriculture and tourism amounting to some 300 [dollars] million a year that has disappeared from our economy?
"These are legitimate issues. Any public figure, including myself, by virtue of commenting on issues, are susceptible to criticism," De Freitas said.
He cited his Christian faith, saying, "This mountain before me is not for me to climb alone but to be strong in the Lord and the power of his might.
"… I trust and hope that Dr. Gonsalves would open up his heart thought the proclamation of him being a good Catholic boy and accept the apology that we give him.
"Failing to do that, I only could see it down as one that God's glory will come through and he will come to that place where his heart is soften. There is nothing else I can do. But I will continue to be truthful to the truth and democracy," De Freitas said.
The comment complained about were made as activist Colin "Hitman" Graham was hosting the New Times programme.