Permanent Secretary in the Ministry of Foreign Affairs, Sandy Peters-Phillips, Friday night issued a press release saying her ministry invited opposition lawmakers to the July 20 cocktail reception to mark the appointment of Justice Adrian Saunders as President of the Caribbean Court of Justice (CCJ), contrary to a claim by an opposition senator.
Attorney General Jaundy Martin — who was sworn in last September during a ceremony to which the opposition was not invited — hosted the cocktail at Beachcombers Hotel, to which printed invitations were issued.
The cocktail followed the special sitting of the court in Kingstown, which was organised by the CCJ, and opposition members have confirmed receiving email invitations to that event.
Opposition MPs, however, are maintaining that if invitations were sent to them, only two of them  — Member of Parliament for Central Kingstown, St. Clair Leacock, and Senator Shirlan "Zita" Barnwell — received such invitations.
The ministry is yet to produce any proof that the invitations were, in fact, delivered to the NDP's headquarters, Democrat House, as it claimed, although it has accused iWitness News of publishing "erroneous and irresponsible" information.
Further, the opposition lawmaker who initially raised the issue is maintaining her position, saying that she does not believe the ministry.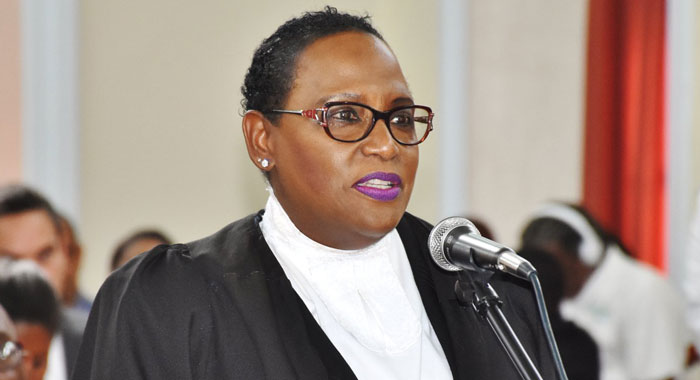 Senator Kay Bacchus-Baptiste further said that if the ministry's story is true, why did the Attorney General apologise to her even before she raised the issue publicly.
The ministry, in a press statement Friday night, said that our article, "CCJ cocktail party shows SVG gov't hypocrisy on court–Kay", in which we reported a claim by opposition senator Kay Bacchus-Baptiste that the government had only invited opposition lawmaker St. Clair Leacock to the event, was not a reflection of the truth.
However, up to the time of publishing this article, there was no response from the ministry to a follow-up email from iWitness News Friday night, asking if the ministry had any proof that the invitations were, in fact, delivered, as they claimed.
The MOFA statement said, "Head of State, Parliamentarians, Heads of Ministries and Departments, Diplomats, Judges and Magistrates and other members of the legal fraternity were duly invited through hand-delivered printed invitations".
The ministry further said that the invitations to the NDP parliamentarians "were indeed hand-delivered to Democrat House, Headquarters of the New Democratic Party (NDP), on Wednesday 18th July, 2018 for the attention of all Honourable members of the parliamentary opposition.
"It should be noted that one of the Ministry's Office Attendants upon arrival around noon at Democrat House on the said date, hand delivered the invitations to a gentleman, later identified as Mr. Tyrone James.
"In light of the information that is in circulation, the Ministry of Foreign Affairs, Trade and Commerce categorically denounces any attempt by persons to inject partisan politics into this national event and would like to reiterate that it takes its mandate seriously to discharge the administrative functions with which it is tasked. The Ministry also wishes to caution media houses that, in future, information should be verified with the Ministry before publication," the statement said.
However, James, who is general secretary of the NDP, told iWitness News Friday night that he had no recollection of having received any such invitation.
He said that when government offices deliver documents to Democrat House, the courier would ask the recipient to sign as having received them.
He further said Saturday morning that after receiving the information about the ministry's press statement, he went to Democrat House to double check and there were no invitations there.
James said that if the invitations were received and MPs had not collected them, they would have still been at the party headquarters.
The NDP general secretary further told iWitness News that he does not open envelopes addressed to MPs.
He said that he would take them to the Office of the Leader of the Opposition, located on the second floor of the same building, and the opposition leader's secretary would distribute them.
Meanwhile, Bacchus-Baptiste is maintaining her position and told iWitness News on Saturday that she does not believe the ministry's explanation.
"I do not believe what they are saying. Anytime TJ (James) received anything, he sends them," she said, adding that James is very efficient.
"If what they are saying is legit, why did the AG apologise?" she said.
Bacchus-Baptiste, a long-time friend of Justice Saunders', paid tribute to him at the special sitting of the court.
She told iWitness News that after the sitting, she confronted the attorney general at the House of Assembly chambers, about not inviting opposition MPs to the cocktail, telling him that that kind of politics has to stop.
Bacchus-Baptiste told iWitness News that Martin told her that his office did not compile the list of invitees but had sent out the invitations and, therefore, had to take the blame.
She said that Martin returned about 10 minutes later and apologised, saying that he was then giving her a word of mouth invitation, telling her "Please come" to the cocktail, but she declined.
Martin was not in office on Tuesday when iWitness News telephoned and he was, at the time of publishing this article, yet to respond to a request for a return call.
Meanwhile, Leacock, who received an invitation and attended the event, told iWitness News that he could not definitively say how he had received it.
He said he was "fairly sure" that he had received the invitation from his party's secretariat, adding that he "can't recall receiving it otherwise.
"It wasn't delivered to my home and I can't recall anyone giving me anything in the street," Leacock told iWitness News.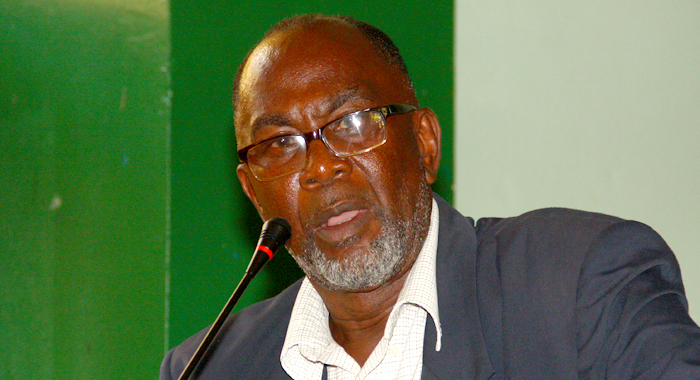 Leacock further said that he receives about 90 per cent of his correspondence through the party's headquarters, but added that as an MP he receives so many invitations to events, he could not say how the one to the reception had reached him.
Opposition Senator Shirlan "Zita" Barnwell was the other opposition member who reportedly received an invitation to the event.
Barnwell was yet to respond to a WhatsApp message sent to her by iWitness News on Saturday and calls to her mobile phone up to Tuesday evening have gone unanswered.
However, iWitness News was reliably informed that Barnwell's invitation was delivered to her law chambers in Kingstown.
In light of the ministry's assertion, iWitness News asked in its email if anyone had signed as having received the invitations on behalf of opposition members.
"I ask this as the opposition maintains that if the invitations were sent, they were not received," the email to MOFA from Kenton X. Chance, executive editor of iWitness News said.
iWitness News is also yet to received a return call from Peters-Phillips as requested on Monday and Tuesday, when we were told that she was unavailable to take a call because she was in meetings.
Peters-Phillips, at the time of publishing this article, was also yet to respond to our request to return a call.
And, Opposition Leader, Godwin Friday, told iWitness News separately on Saturday that he did not receive an invitation.
He said that he had double-checked with his secretary, who, he said, on receiving communications, would note them and distribute accordingly.
The opposition leader said that what he did receive was an email from the Caribbean Court of Justice informing of the special sitting of the court in St. Vincent.
He said that the invitation had said that the sitting would have taken place at 9:30 a.m. on July 20 and had added that a cocktail reception was "to follow" but had offered no details about the social event.
Friday, who attended the special sitting of the court, said that his secretary forwarded the email to opposition MPs, several of whom have confirmed to iWitness News that they received the email.
The opposition leader said that while at the special sitting of the court, which was rescheduled for 1 p.m. on July 20, several persons, including MOFA staff, asked him if he was attending the reception.
He said he told them that he had not received any information about when and where it was taking place.
"There is some mix-up, but whatever the intention was, we did not receive it," Friday told iWitness News of the invitation to the cocktail.
NDP chairman, Daniel Cummings, also confirmed receipt of the email inviting him to the special sitting of the court but said he received no invitation to the cocktail.
"I can tell you for myself, I received no such invitation. Nothing local came to me, whatsoever," Cummings said.
iWitness News received a printed invitation to the cocktail but did not attend.