A man who defecated then used the excrement to fend off police officers trying to arrest him, says the officers whose warning shot he had ignored — acted inappropriately when they shot him some time later.
It was the second time since 2014 that Bernard Shallow was using his excrement to help him evade the law.
The 49-year-old Kingstown resident, who is also known as "Doctor" and "Copper Shot", is at the Milton Cato Memorial Hospital, nursing the gunshot injuries he sustained during the ordeal last week Thursday, Nov. 22.
On Monday, Shallow, who is originally of Barrouallie, told iWitness News that Senior Magistrate Rickie Burnett, in September, granted him bail in his own recognisance in relation to a theft-related charge.
As part of the bail condition, Shallow was ordered to report to police in Kingstown on Mondays and Friday.
He was also ordered to reappear before the magistrate on Nov. 1.
However, he failed to do so.
Shallow told iWitness News that he did not attend court on Nov. 1, because his right hand was swollen.
He said that later that day, police officers went to Rose Place and told his friend that he had missed his court date.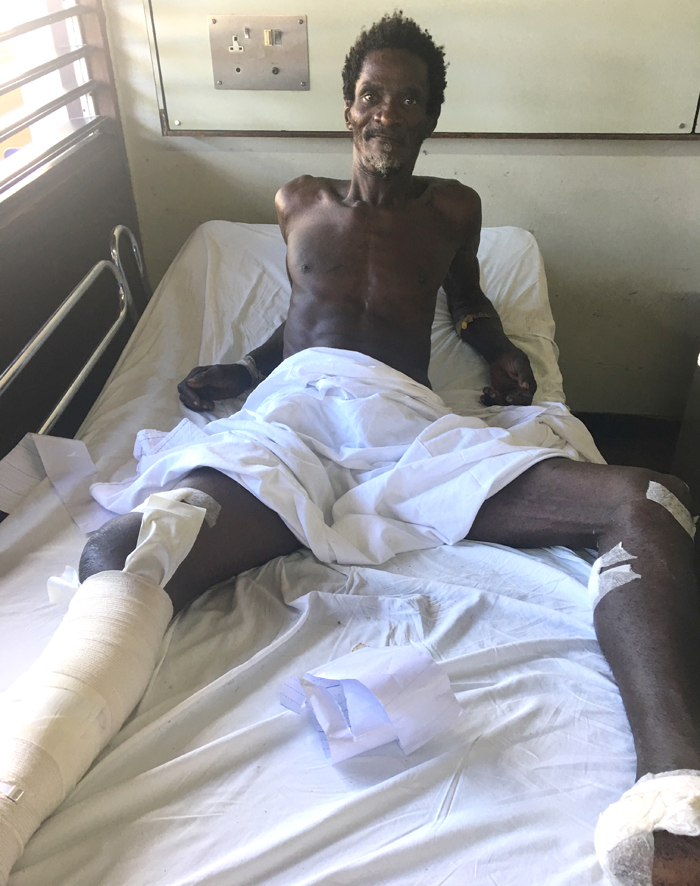 The officers further told the people there that they will return to look for him, Shallow told iWitness News.
He, however, said that the officers never returned, neither did he attend court.
He said that last Thursday, the police officer who distributes summonses met him along Road to Leeward in the area of Daddy's Shop.
He said that four officers were in a marked police car and two of them exited the vehicle.
Shallow said he was carrying some pieces of lumber and a cutlass when just felt what he later realised were two uniformed police officers grabbing him from behind, saying, that they were looking for him for some time.
He said that two of the officers had remained in the car.
The man said he threw the items he was carrying to the ground and asked the police to escort him to Rose Place to take the lumber and cutlass there before taking him into custody.
However, when the police officers refused, Shallow told the police that he was not going with them and picked up the faeces and threatened to pelt the officers with it, he told iWitness News.
Shallow said that at this time he "found a little escape" and ran along the road outside the main entrance to the Milton Cato Memorial Hospital then onto the road to Edinboro.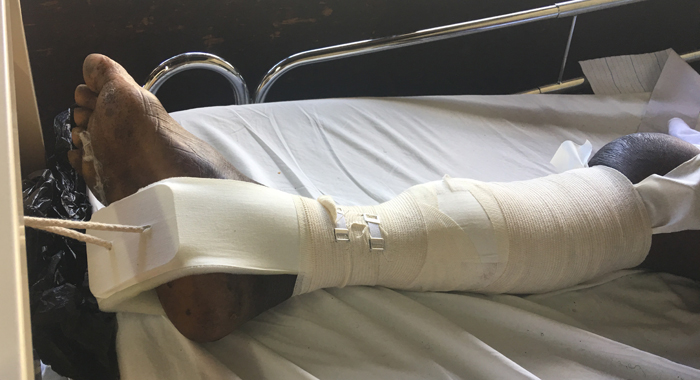 He said that when he got near to a standpipe in the area, he heard a gunshot ring out.
Shallow said the armed officers, who had their guns drawn, again told him not to move. But, instead of complying, he ran in the direction of Rose Place.
He said he ran onto the beach in Rose Place and was able to run into a house.
However a man for whom he had refused to buy rum in the past was inside the house.
The man in the house began making noise telling him to leave, Shallow said, causing the police to realise that he was in the house.
Shallow said that the two police officers entered the house and he put up his hands up, telling the officer, "Please don't shoot me. I give up."
He, however, said that the two officers started to shoot, discharging four bullets.
Shallow said he was struck in the left ankle and knee and also in the right knee, which seemed to have been severely damaged.
The police took him to the hospital and he is scheduled to undergo surgery to help treat his injuries.
Shallow told iWitness News that he thinks that the police shot him unnecessarily.
"I was unarmed and had surrendered," he said, adding that he is now in a lot of pain.
Shallow told iWitness News that he was trying to evade police because it would have been the first Christmas or Carnival since 1990 that he would have been spending outside of prison.
In June 2014, Shallow escaped custody at the Kingstown Magistrate's Court after throwing faeces at the auxiliary police officer on duty there.
He was apprehended later that day in Paul's Avenue and was later jailed for two years for escaping lawful custody and six months for assault.
The sentences ran concurrently.
Shallow had told the court that he had just been released from prison and had not wanted to go back, hence his decision to use his faeces in his escape attempt.