Soca artiste Bradley "Party Dawg" Huggins, 28, was among three men jailed on Wednesday for the Christmas 2015 robbery of a security guard in Kingstown.
Fans of the "Mrs Jones" singer will have to wait almost a decade to hear any hit from the artiste, who was sentenced to nine years 11 months and three weeks in prison.
He was jailed alongside his co-accused, Osborne Brudie, 28, and Terron Prince, 33, who were found guilty of robbing security guard Kevorn Skinner of cash and personal items, total value, EC$1,100, at Kingstown on Dec. 25, 2015.
They were also charged with abduction of the security guard, but the jury returned a not guilty verdict on that charge.
During his sentencing at the High Court in Kingstown, Huggins asked Justice Brian Cottle not to be too harsh on him.
He said that he wished his victim were there so he could apologise to him in person.
"I know it is hard because I myself was a victim of gunshot and it had me in a mental state for a while so I know it is something that is going to take a while to get over. I'm really sorry."
He said that he respects people regardless of their occupation and feels as if he has disappointed his fans.
"Me being an entertainer, looking for people to respect me or follow me, I just feel like I let everybody down and everybody who supported me, I am sorry, and sorry to this honourable court."
Huggins told the court that he is a single parent of two daughters, one of whose mother has died.
He said that his mother is a domestic and his father a fisherman and are unable to provide financially for his children.
The facts of the case are that on Dec. 25, 2015, Skinner, who was a security guard, had finished his shift and was trying to get a minibus at a bus stop in Edinboro.
The judge noted that in St. Vincent and the Grenadines, public transportation is provided by private operators of minibuses, most of who do not work on public holidays.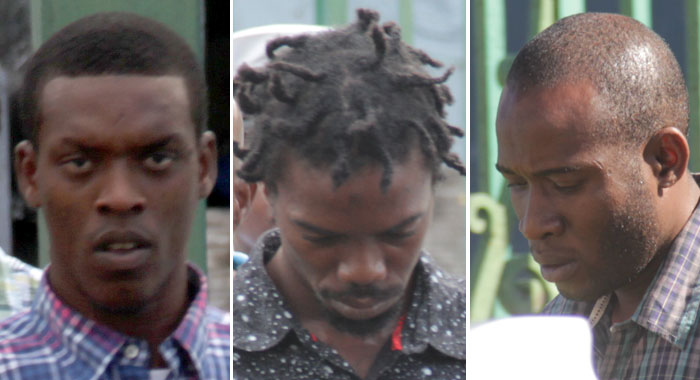 He said the travelling public faces difficulties in getting around and this was the case with Skinner on that Christmas morning.
Skinner was approached by Prince and Huggins, who indicated to them that Brudy was prepared to drive him to his home for a fee.
They asked him to give them money and he gave them EC$3.
The men told Skinner that was not enough and they demanded that he give them all that he had.
Skinner, therefore, handed over an additional EC$60 along with his bag, which contained his cell phone, its charger, and some clothing.
He also had an ATM card.
The three men then drove Skinner to Kingstown and they demanded that he give them his pin number to the ATM card.
When Skinner refused, the men threatened him with a knife, which they pressed to his neck.
Skinner then gave the men the pin number and they made two withdrawals of EC$300 and EC$200 from his account.
They then went to a bar where they were buying and drinking alcoholic beverages.
During this period, as the men were distracted, Skinner took advantage of the opportunity to run away and went to the police station.
The police investigated, taking Skinner to Edinboro, where he was able to point out the vehicle that the robbers had used.
Brudy, the driver, was found with the vehicle and was arrested.
Police searched the vehicle and he told them to look in the glove compartment, where they found EC$300.
As part of their investigation, the police obtained photographs from the ATM cameras and later arrested Prince and Huggins.
At the trial, the men gave evidence implicating each other and minimising their own roles.
In mitigation, Brudy told the court he was "so sorry for what happened".
"I am begging for a second chance, your lordship.
"Right now, I am not feeling myself," he said.
Prince told the court that he was serving a five-year sentence and his family was looking for him to come home next year.
He said he was sorry about what happen with him and Skinner and would change when he is released from prison.
Enwar Thomas, of Prospect and Samuel Garrick testified as character witnesses on behalf of the men.
Justice Cottle noted that in SVG, robbery carries a maximum penalty of life imprisonment on conviction on indictment.
He stated the aims of criminal sentencing, namely retribution deterrence, prevention, and rehabilitation.
He said that the aggravating features are that the robbery occurred over a prolonged period and that Skinner was kept in the car for a while and was being driven to and from the bank before he was able to escape.
The judge also noted that the men made two withdrawals and had been drinking heavily.
"This robbery took place on Christmas Day, the holiest of holidays. It was the work of a gang of assailants and they used a weapon," Justice Cottle said.
He said the only mitigating factor he found was that some of the money was recovered.
The judge said that the complainant has been so traumatised that he has never returned to Edinboro since the date of the crime.
He said that a life sentence is viewed as 30 years in prison and he is content to begin at one third of this.
He moved upwards by one year because of the aggravating features.
Regarding Brudy, he said he had no previous convictions and is the father of one child.
The judge said that Brudy has good prospects for rehabilitation, and reduced the notional 11-year sentence by two years.
In light of the evidence of the character witnesses, the judge further reduced the sentence by one year.
Brudy had spent three years on remand, bringing his sentence to seven years nine months.
Prince has nine previous convictions, three of which are for offences involving violence against others, two for possession of a firearm and ammunition, but no previous convictions for acts of dishonesty.
The judge said he sees no reason to depart from his notional sentence.
With the three months spent on remand, Prince would spend nine years and nine months in prison.
Huggins has five previous conditions, four for acts of violence, but none for acts of dishonesty. One on them resulted in incarceration.
The judge said that it is for this reason, that despite Huggins previous convictions he would not depart upwards from the notional sentence.
Huggins had spent only one week on remand.
The judge made a restitution order for the cash recovered.