After five months, regular sittings at the Kingstown Magistrate's Court resumed on Monday, with Kingstown Senior Magistrate Rickie Burnett presiding there for the first time this year.
The court had remained closed for the five months that Burnett has been acting as a master of the High Court, an appointment that saw him travelling to Anguilla and St. Kitts.
During Monday's sitting, he told the court that when he started promptly at 9 a.m., the courtroom was empty
"I am tempted to say, 'Happy New Year'," he said, adding that it was his first sitting for the year at Kingstown Magistrate's Court.
"It's good to be back," Burnett said adding that while he was not at the Kingstown Magistrate's Court he had been working elsewhere.
"I did enjoy the five months," he said adding that it took him to Anguilla and St. Kitts, and he was very grateful for the opportunity to serve in a different capacity.
"But the Kingstown court was always on my mind, to the extent that I was aware that the court was not sitting.
"That's the nature of life. I am happy to be back."
He noted that since he left in December, a number of things have changed, one of which was the promotion of one of the court officers, Donna Kennedy, who has been promoted from constable to corporal.
"I want to congratulate you and I wish you well," he told the police officer.
The magistrate said that before coming to court, he prayed and asked God to continue to give him wisdom as he executes the duties of his office.
"It's not an easy job. Sometimes you get it right, sometimes you get it wrong but I always try to do my best and ensure that justice is served. That's the reason why I am here."
The magistrate said that as he embarks "on this journey again, I will be the same person and I will endeavour to do justice to all parties".
He said that, from time to time, he surfs the internet and reads newspapers and sees the way persons critique the justice system.
"I also see the way persons critique magistrates and judges. But I guess that is also part of life."
He said that one of the things he plans to do differently is to start his court on time, at "nine o'clock on the dot.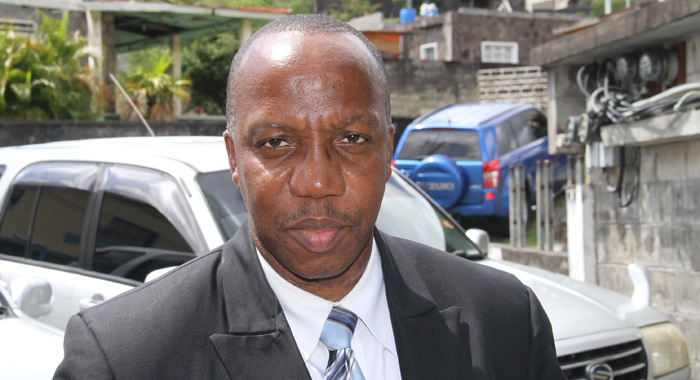 "And I also want to finish on time. Yeah?" he said.
As he was speaking Assistant Superintendent of Police, Hezran Ballantyne entered the courtroom.
The magistrate told the senior detective that he was happy that he was there because he wanted police officers to know as well that "as of today, I intend to start my court promptly at nine.
"So I expect the new arrests to be on time," Burnett said.
The senior detective used the opportunity to welcome the magistrate back and assured him that systems will be put in place to ensure that persons being arraigned arrive on time.
Meanwhile, prosecutor Constable Corlene Samuel, who was battling an issue with her voice, welcomed back the magistrate.
And defence counsel, Jomo Thomas, also welcomed the magistrate on his return.
"We missed you, actually," Thomas told the jurist.
"We missed your mind," he said as the magistrate commented, "I read your comments as well."
During Monday's sitting of the court, Burnett asked if there are persons on remand as a consequence of the court not having sat for the past five months.
The prosecutor said that that might be the case and the magistrate ordered that they be brought before him soonest.
"It is unfair to them. It is no fault of theirs and no fault of this magistrate," he said.
Burnett also said that he expects that there will be backlog of cases.
He said he will have shorter lists, with the intention of having more trials.