The main opposition New Democratic Party (NDP) says the government of St. Vincent and the Grenadines must use legislation to send a strong message of society's abhorrence of rape and other sex crimes.
"One of the things a government ought to be looking at is to pass legislation, in my humble opinion, severely increasing the penalties for rape and sexual violence and to publish the sexual offenders list," NDP chairman Daniel Cummings said on radio on Wednesday.
"Sometimes people have to demonstrate, not just talk, but put your money where your mouth is, tell the society, 'Look this is not acceptable behaviour and we are going to change the laws to make the offence of rape have a greater punishment than it does have now and that the sexual offenders' register will be published so that if you are charged and found guilty, they world must know that you are a rapist and be warned," the West Kingstown MP said.
"And we, in the New Democratic Party, I am absolutely sure, will subscribe to this, because it is a way of signalling and curbing this painful sickening behaviour that pains our land," Cummings said on his weekly appearance on his party's radio programme, New Times.
Cummings joined the list of persons who said there is a "rape culture" in SVG.
In August, Kimberley Cambridge, a psychologist attached to the Milton Cato Memorial Hospital, said there is a rape culture in SVG.
"We cannot pretend it does not exist," she said, adding that in order to combat it, the nation must talk about it.
And in February 2018, Maia Eustace, a lawyer and member of the NDP's Women's Arm, said SVG "can very fairly be described as having a rape culture".
Cummings said it appears that some persons, rather than looking at "rape culture" as a source of nation shame, take it as legitimising their behaviour.
"And it seems to me that expression, for some people, is taken to mean that people have a right to go on a sexual rampage; that there are no limits and that you can do virtually anything and get away, and that is frightening," the opposition lawmakers said.
He said that in decades past, mock hangings were used to shame families involved in incest and served as a warning that society would never accept incest as normal.
Cummings, however, said that SVG has changed.
"… we are living a in a culture that makes people believe it is okay to have sex with a female species whether she wants to or not. And this culture has come about in a systematic way by the persistent and numerous accusations of sexual molestation against Ralph Gonsalves and other members of the ULP and strengthened by the so called 'rape rally', where women in the higher echelons of the ULP came out in support of the man who was accused and charged with raping a police woman."
In 2008, a member of Gonsalves' security detail accused him of sexual assault and her lawyers filed private criminal complaints against the prime minister.
However, then Director of Public Prosecution, Colin Williams took over and discontinued the charges for want of evidence and the higher court upheld his decision.
In September 2016, Miranda Wood, now 47, originally of St. Vincent but living in New York, told Gonsalves at a town hall meeting in the North American city that he had "attacked" her in his office in Kingstown when she was 15 years old.
Gonsalves denied the woman's claim.
Cummings noted that when the police officer alleged sexual assault, Gonsalves, a lawyer, against the established norm, publicly named his accuser.
"That was not condemned, neither by the church, definitely not by his party," Cummings said.
Supporters of Gonsalves' Unity Labour Party held a rally in Kingstown in support of him in the face of the police officer's woman's allegation. The rally has come to be known as a "rape rally" by persons who opposed it.
'a new plateau'
In recent months, there have been several reports of persons being charged with committing sex crimes against minors, and there have been an even greater number of reports of similar alleged.
Last Saturday, police confirmed to iWitness News that they were investigating a report of six men raping a woman in her 50s in Kingstown the previous night.
Cummings said:
"What is happening in our society within the last month or so is at a new plateau. You have situations where people are being gang-raped, you have situations where underage children are having children at the hospital and it doesn't ring an alarm.
"Instead, the government is quarrelling with the population about the age of the person, not about the nasty nature of the crime committed against the child — impregnating an underage child. That doesn't bother them. What bothers them is that the population is saying that the girl is 10 years old when she may be 10-plus or 11. That is the focus of the so-called government."
Recently, there was a widely circulated report that a 10-year-old child giving birth at Milton Cato Memorial Hospital, but Minister of Social Development, Frederick Stephenson said the report was false.
Cummings said:
"You have children at the age of 4 years old being reportedly molested sexually and that doesn't ring alarm bells in the government of the day. You don't hear anybody in the government speaking out and saying, 'No. This is unacceptable behaviour.'
"Why is it so that this deafening silence on the part of the people who stole the election and find themselves in power? They cannot find it within themselves to unequivocally condemn this kind of sexual outrage.
"And I hear some people calling on the opposition. Who is the opposition? Where are the voices of the people in this country who still have morals? Where are the voices of the members of the clergy, collectively? You hear them uttering words on several things. Doesn't this kind of behaviour, doesn't this upsurge in the way we treat our women and our children, isn't it a matter of grave concern?"
'totally unacceptable'
Cummings said that the position of the NDP is clear on these matters.
"When Dr. Friday speaks about family, it is not just talking about Dr. Friday's blood family or Major's blood family, it is speaking about all of us as a people being one family, made by God in his own image and likeness. That is the family Doc is talking about: a nation, a people; respect for the rule of law, respect for other people's rights," he said of NDP President and Leader of the Opposition, Godwin Friday.
"How could anybody sit comfortably when you have these appalling frequent incidents of sexual molestation and rape and violence, particularly against women? How could your skin not crawl and you hair stand up on your head when every day you are faced with — I mean, this is not happening anywhere [else] in the Caribbean at this alarming rate," Cummings said.
"… Unless and until we make an incision in this country, until we get rid of these people, the rape culture is going nowhere and this is not a condition under which I want to live.
"As a people, this is totally unacceptable, this really defies any kind of understanding that any human being, any human being made by God in his own image and likeness, an adult male would be sexually molesting a 4-year-old? That you would have people, gang of big men who would molest and rape, gang-rape a young lady? In St. Vincent and the Grenadines? I say no. We have to turn back; we must turn back. We must go on like that."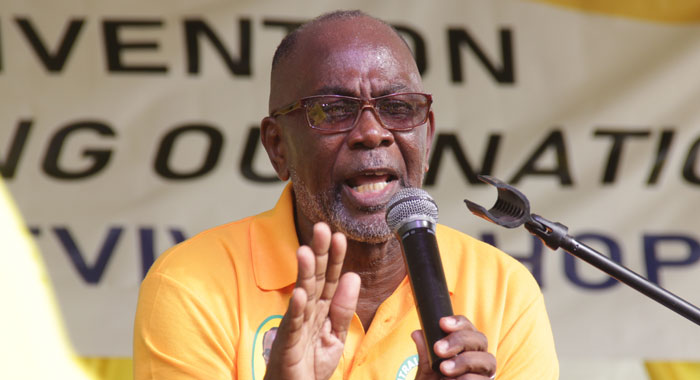 Meanwhile, St. Clair Leacock, an NDP vice-president, speaking on the same programme, endorsed Cummings' comments.
Leacock, who is Member of Parliament for Central Kingstown, said someone was telling him earlier this week about some of the latest sex crimes cases.
"I got to the point where I told her I didn't want to hear anymore because it was not just slack and sickening but it's having a devastating effect on your mood and your psyche at the time," Leacock said.
"I don't recall in the history of St. Vincent and the Grenadines, a time in which the issue and the crime of rape was more frequent and violent than murder."
He said the country was always offended by murder cases and decades ago, a rape case was "so singular".
"But now, it is toute monde baggai (pervasive) — big small, little, yellow, pink, green and blue. And you get the sense that, in some cases, it is not just a matter of sexual satisfaction but there is violence and a use of power and dominance and humiliation of the female gender and I am making a statement."
He said this may well be the case and the social scientists may say that something has radically gone wrong in the society.
"If that is in fact the case, and I believe it is the case, then those of us who are in the corridors of government have a moral, political and other responsibility to do something about it.
"And certainly, leaders must lead and clearly there is a need for the government to express in the strongest terms possible their abhorrence of this development and go beyond that and signal that this is not simply a requirement of some unit within the police force but it is matter for which we would not stand," Leacock said.