A prominent member of the main opposition New Democratic Party (NDP) says St. Vincent and the Grenadines should not allow itself to "become the laughing stock of the world".
"There is something that can happen that you must not allow happening in this country," Central Kingstown MP, St. Clair Leacock told an NDP village meeting in West St. George last week.
Leacock noted that the ruling Unity Labour Party held its convention earlier this month.
"And they said to St. Vincent and the Grenadines that having looked at the young people in their party, [Minister of Agriculture] Saboto [Caesar] didn't cut it. Equally, they said [Minister of Finance] Camillo [Gonsalves] not ready yet… What did they say? Put back De Comrade (Prime Minister Ralph Gonsalves) to lead the party in the next general elections."
Leacock said that ULP has a right to choose for itself.
"That's their party. That's not our business," he said at the meeting in Cane Hall.
He asked the audience if they think that "by some strange reason" Prime Minister Gonsalves win again, if he intends to remain as prime minister for the next five years.
"He don't intend to do that," Leacock said.
Leacock asked the crowd if it thinks that Gonsalves would put Minister of Housing Montgomery Daniel, who has been in office since March 2001, to replace him and they said no.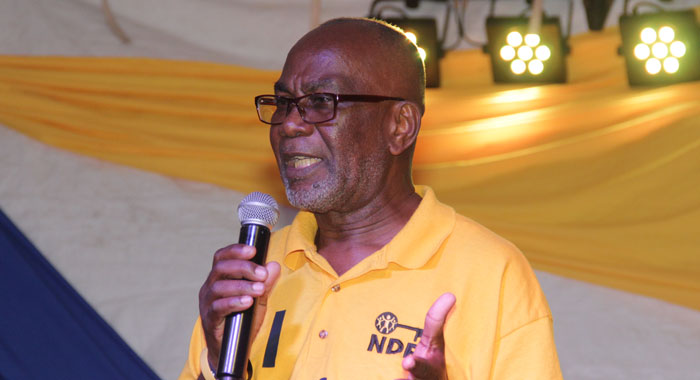 He said that Gonsalves will put his son, the finance minister, as his successor.
"Now hear and behold. This is what I put to you. How can you have a man become prime minister of a country when in his own political party, he was never president, vice-president, treasurer, secretary, PRO, committee member, never tie out a goat, ain't know 'bout hopscotch," Leacock said.
"How does he suddenly move from not being in charge of a political party to being in charge of a country? Think about it! Think about it! By their own admission, they have excluded him, disqualified him," Leacock said.
"Because they can't have it both ways. You can't, on the one hand, say that we have plenty money … money to burn, but when you look in your own constituency, you don't see the evidence.
"If you go to Fair Hall, you will see the state of the roads in the constituency that Camillo is in charge of. If he can't fix his own road as Minister of Finance, he go fix Bom Bom? He going fix Cane Hall? He going fix Sharpes? How it going happen?" Leacock said.
In 2015, Prime Minister Gonsalves, who was then seeking a fourth consecutive term in office, asked for another term, among other things, to transition to new leadership.
Leacock warned against what he suggested what the ULP's leadership transition strategy, saying that it could be embarrassing to the country.
"Already, in any part of the Commonwealth Caribbean, if when you vote a government into office you don't like it, you can go and recall that government. You can have a vote of no confidence. But not in St. Vincent," he said.