An all-female crew from Mayreau raced a working boat for the first time ever in this nation on Saturday at the Grenadines Sailing Tournament, hosted by the Canouan Island Council.
Team Captain Jeaneil Cayenne, a high-school student, was joined by classmate Samarah Forde, and two adult women, Helen Forde and Charlene (Charlie) Wilson, in God's Angel — a 14-foot working boat owned by Lenus (Claude) Alexander of Mayreau.
In difficult weather, facing wind, current and waves, the women completed the long challenging course in 2 hours and 54 minutes.
"The best part was coming up from Jondelle," said Cayenne, referring to a rock near Mayreau's Catholic Island, some five miles away from the finish line.
"Because there was plenty wind and plenty water coming in. This shows women can do the same men can do when it comes to sailing."
Cayenne summed up her crew's experience saying: "It was fun. It was amazing and competitive."
Force, Mayreau Junior Sailors' coach, concurred.
She thoroughly enjoyed the experience, too, saying with a huge smile: "It was the best ever competing against men when you're all female."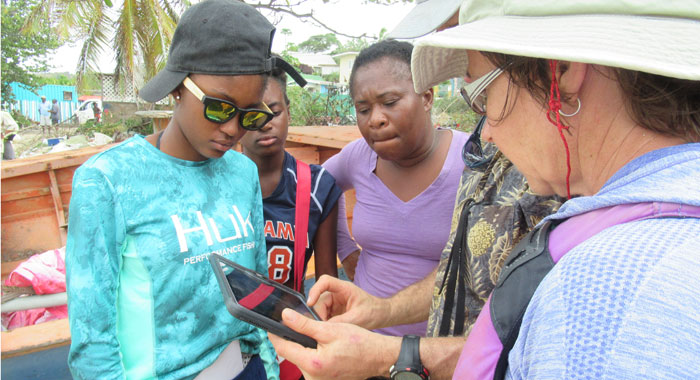 Mayreau was well represented at the first day of the two-day event, with four Optimist boats, one laser, one sunfish all crewed by junior sailors and one other working boat, crewed by men. Lesroy Ollivierre finished the Optimist course first, followed by Leon France who placed second, while Azeem Forde took the third spot.
Jarvon Bartholomew, who persisted despite repeated problems with his rudder, finished the course in good style.
Norfrick Baptiste sailed a laser and Stephon Forde raced a sunfish.
Captain Adolphus Forde was joined in 16-foot Lightning by his brother John, and high-school student Jay-Z Forde.
"The Mayreau Junior Sailors are grateful to the Canouan Island Council for providing this Grenadines Sailing Tournament as an opportunity for their young sailors and their all-female crew to get some racing experience under their belts early in the season.
"They also wish to thank Gus De Roche and the Gemstar crew for providing transportation for both the junior sailors and the Mayreau boats from Mayreau to Canouan and Samuel MacDonald Construction, along with driver Patrick Bynoe for transportation on Canouan," a press release said.