When Grade 6 language arts teacher Suzette Hoyte-Holder had to educate her students online because of the COVID-19 pandemic, she had two daily sessions with them.
In the morning, she delivered the coursework and exercises and then they returned in the afternoon for second session to correct the work the students had done.
In-person classes resumed on Monday at schools across St. Vincent and the Grenadines for the first time since Easter as a result of the COVID-19 pandemic.
And, at the Kingstown Preparatory School, which has one of the largest Grade 6 populations in the country, Hoyte-Holder found that the 146 students were spread across 14 classrooms, rather than the usual four.
The school had placed the students in that many classrooms — nine to 11 students per classroom — in keeping with the physical distancing protocols intended to prevent the spread of the viral illness.
When iWitness News visited the school around 11:30 a.m. Monday, we met Hoyte-Holder sitting at a desk wearing a face shield — the face covering of choice of at least one of her students — while the others wore fabric masks.
Hoyte-Holder was one of four teachers in a room that was actually two classrooms merged into one by removing the moveable partitions.
The room contained 22 students and four teachers, in a school that was especially quiet for a primary school, especially on the first day of a new term.
Hoyte-Holder told iWitness News that teaching children in those circumstances was "quite challenging, overwhelming".
"For me and I know for the other Grade 6, we have been teaching the children online for over a month. We have been using Google Classroom and Zoom."
She said that all of her 43 students participated in the online classes most of the time.
"If a child could not make it, they would inform me," she said.
Hoyte-Holder, who has been an educator for over two decades, said there was also a students' chat room to which the work was sent and another for parents. The work was also sent via email to ensure everyone received it.
She said teachers and other staff came to work on Monday before the 9:30 a.m. scheduled start of classes — 30 minutes later than normal — and cleaned as much as they could.
"Here today, I have 43 children, they are spread out in four classrooms, so I pulled the blinds (partitions) there to make it easier," she said, adding that there were three classrooms with 11 students each and another with 10.
"The difficulty is that we have to have the children maintain social distancing, which is really difficult for them. They are excited to see each other but they can't hug. Of course, you want them to follow the guidelines because we want them to be safe," the educator said.
"And as you see me wearing a shield, it is really difficult for me with the mask. I keep pulling it down, and so on," she further told iWitness News.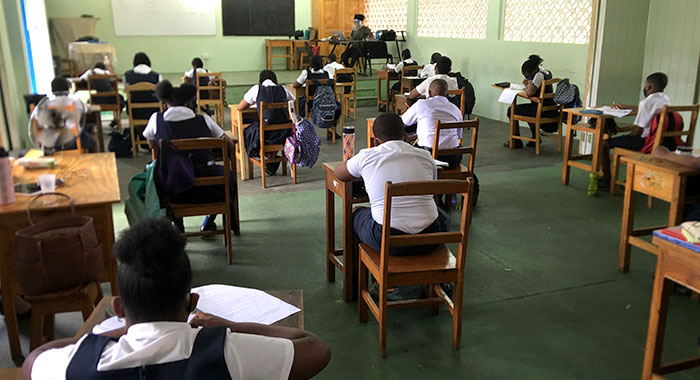 She said there were other teachers from other grades in the classroom.
"We are accustomed to working together; they would assist, but the teachers themselves, like me, teaching language arts today have to go from class to class to give the instruction, which is really tiring. And doing it online was easier for me.
"I would have given this work this morning, we were reviewing parts of speech and for them to be able to identify them in sentences," she said, referring to the work on the blackboard.
"That work, online, I have two sessions, one at 10 and in the afternoon we would meet and do the corrections.
"Doing corrections was very important because that's the time when you really see what they understand and where you have to re-teach an area. Here, this morning, I could not get to do the correction with all of them. So this afternoon, I have to use that session to do the correction."
Hoyte-Holder told iWitness News that at school on Monday, all the students had language arts in the morning, then maths and science after the break and social studies and another language arts session in the afternoon.
"It is kind of different making it easy because we are an hour short so we have to adjust to suit," she said.
In addition to starting 30 minutes later than usual, school is also ending 30 minutes earlier.
Hoyte-Holder said that another challenge is that the same social studies and science teachers have to each go to 14 classrooms.
"And they have two sessions per day. So the two sessions per day, they have to go to eight classrooms," she said.
She, however, noted that the arrangement is a temporary one that would not last for months, as the students are in school to prepare for the school-leaving exams, which would take place in less than a month.
"We have to be fair, we have to reach all of the children, and so on, but we have just and see how best we can make it work," Hoyte-Holder said.