Police, on Thursday, recaptured the two accused murderers who were found missing from their cells, one day earlier, at Her Majesty's Prison, in Kingstown, where they were awaiting trial for unrelated killings.
Veron Primus, 33, and Ulric "Chuky" Hanson were nabbed at a rented apartment in the Plan area of Lowman Leeward, where two other women lived.
Residents of the area told iWitness News that police took one of women into custody after apprehending the two escaped prisoners.
The other woman was not at home, iWitness News understands.
Police quickly wound up the window of one their heavily tinted pick-up truck as they left the scene. iWitness News understands that the woman was transported in that vehicle.
Primus, 33, was taken into custody unscathed but his fellow escapee was shot by police and was rushed to hospital, a senior police officer told iWitness News.
Hanson's condition at the time of publication was unknown.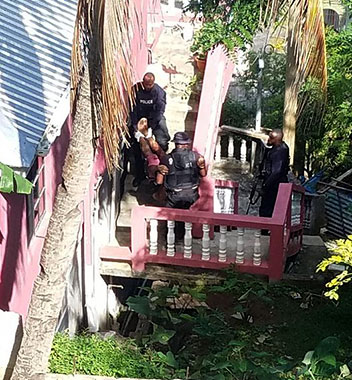 It was the second time in less than a year that Primus escaped from the prison, which generally houses persons who are awaiting trial and persons serving short sentences for minor crimes.
The apprehension of the two prisoners, who police described as dangerous, left residents of the West Kingstown community surprised.
Many of them spoke of their shock at learning of the apprehension of the prisoners in their community.
The two men were discovered missing around 6 a.m. Wednesday, Commissioner of Police Collin John told iWitness News shortly after the jailbreak became public Wednesday morning.
Primus has been in custody since April 2016 when he was arrested and charged in connection with the November 2015 murder of 33-year-old real estate agent Charlene Greaves.
Greaves' body was found with stab wounds at her office in Arnos Vale on Nov. 13, 2015.
Primus was committed to stand trial for that killing but escaped prison in September 2019.
Primus turned himself in after that jailbreak and pleaded guilty to a charge that between Sept. 30 and Oct. 1, 2019, at Kingstown, while being held on remand at Her Majesty's Prisons, he did escape such lawful custody.
Chief Magistrate Rechanne Browne sentenced Primus to 16 months in prison, for that offence, a sentence he was still serving at the time of his escape.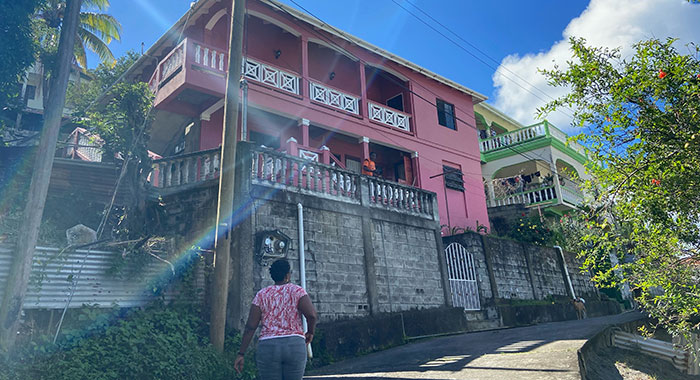 Suspended prison officer Louie Cupid, 46, of Murray's Village, is being tried on two corruption charges in connection with that prison escape.
Police cracked the Greaves murder case in April 2016 as they were investigating Primus' alleged abduction of fellow Vermont resident Mewannah Hadaway, then 24.
Primus was charged with one count of kidnapping, two counts of rape and two counts of buggery after he allegedly kept Hadaway against her will at a house in Vermont, from Jan. 1 to April 15, 2016.
Those charges were withdrawn because the virtual complainant, having migrated, was not available to testify at the preliminary inquiry in 2017.
Meanwhile, Hanson was, in May, sentenced to six months in prison for inducing into Her Majesty's Prison one black Alcatel cellular phone and charger, which are prohibited articles.
At the time, Hanson, as well as his co-accused, Glenville Harry, of Vermont, and Jerome Ollivierre, of Mayreau, were awaiting trial in connection with the 2018 murder of Rodney George, a 50-year-old security guard, of Victoria Village.
George's body was found with his throat slit on Sept. 1, 2018 and police placed his death as having occurred sometime between Aug. 31, and Sept. 1.
The accused are also charged with entering the GEC Auto Supplies at Arnos Vale between Aug. 31 and Sept. 1, 2018, as trespassers, and stealing EC$2,074 in cash, the property of Gevandean Wilson, owner of the business.
Also, Hanson and Harry, along with Racquann Robinson, of Campden Park, and Elroy Rodgers, of New Montrose, and suspended Police Constable Ettian Charles, of Arnos Vale, escape further prosecution after physician Reisha Browne-Caesar, the wife of Agriculture Minister Saboto Caesar, refused to testify earlier this year in a case that they robbed her at gunpoint of items valued EC$10,350 and documents outside her Cedars home in September 2016.
Primus has also been indicted in the United States — where he lived for almost two decades — in connection with the 2006 murder of Chanel Petro-Nixon, 16, in Brooklyn, New York.
Officials in SVG have said that they had received no formal request for extradition and any such request would be considered after the Primus' legal matters in SVG have been disposed of.