Former head teacher Otto Sam says he believes that God allowed eight government MPs to catch COVID-19 during the budget week to communicate a message.
That message was that the COVID-19 vaccine is not a panacea and firing public sector workers for not taking it is wrong.
In the week of the Budget Debate this month eight government MPs tested positive for COVID-19, forcing Prime Minister Ralph Gonsalves to swap a senator to ensure parliamentary approval of the fiscal package, as the opposition withdrew from the debate. 
"I … have said that God allowed it that only those from the government side who had total confidence in it, who was so confident that they would fire their brothers and sisters…, their own constituents," Sam told a public sector unions press conference on Tuesday.
"And I'm not going to the politics because I'm not going to be there," said Sam, who the Ralph Gonsalves government transferred from his head teacher post in 2010 to the National Emergency Management Organisation (NEMO) before firing him in 2013.
In 2016, the court ordered the government to pay Sam all monies he would have earned had he not be fired, saying that the government's decision to fire him "was "irrational and illegal".
Sam told the a joint press conference of the SVG Teachers' Union and the Public Service Union:
"But the fact that you have so much confidence [in the vaccine], and then God allowed just those parliamentarians to be affected is a sign.
"We don't know what God is saying but there's a message in it that clearly saying something that, 'Hold on, you took the two vaccines, these are people who have taken, the workers were vaccinated and the fact that you are affected. So, become sober again, nuh; have some heart again. This is what you would dismiss people for?'"
About 300 people have been dismissed from their public sector jobs, many of them losing accrued benefits, because they did not take a COVID-19 jab by Dec. 10, according to a law passed by the Cabinet.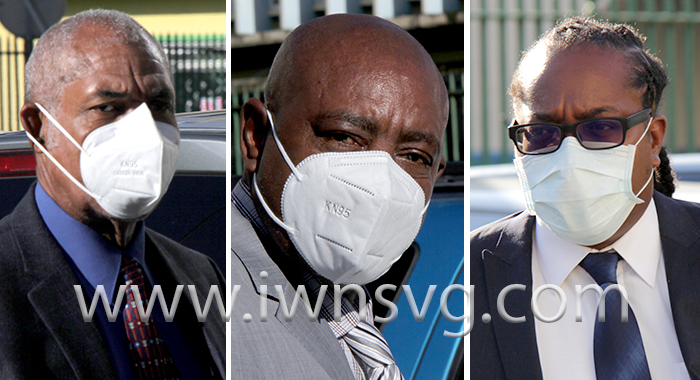 Sam, who is also a pastor, told the press that he stands in solidarity with the workers who have lost their jobs.
"I've walked this road. So, I understand the pain, I understand the hurt, I understand the anxiety, I understand the pressure. One brethren who has been affected by this told me, 'This is tough but I'm hoping that God will see us through."
Sam said that he was not going to reiterate that what the government did was an error," adding that the government is made up of human beings "and mortals will make mistakes and we all know that it is an error.
"The fact that it is an error, both sides, especially the government, the state, which seems to be in this present time with the advantage and all the bullying tactics, could just climb down, soften hearts, let's become human again and just withdraw these letters. Cabinet has the authority to do it and Cabinet can initiated," he said, referring to the letters of dismissal.
"So we don't need to remind ourselves and the nation that this is unreasonable, it's unfair."
He noted the data that PSU President Elroy Boucher had disclosed in the press conference about the high COVID-19 infection rates in countries such as Israel, where vaccination and booster rates were also high.
Sam, however, said that even without that data, "the fact that teachers stood up during that period of dengue, that period of early corona, the nurses, the doctors, without PPE, without vaccine, went to work, showed loyalty, were patriotic and then when there was the explosive eruption of the volcano, I have colleagues, brethren, who were on leave, vacation leave, but cancelled their leave to go and take care of those brethren from the Red Zone, because they have a responsibility in their mind to humanity, to the citizens, to their brothers and their sisters.
"So just for that alone, even while the state was piloting this act, this bill, these teachers were still taking care of people in the shelters. So it's inhumane, it's unreasonable.
"So forget the science and forget the data that is on the side of the workers, just the fact that these people's stood with, held up the hands of the Prime Minister and the hands of the government, in a time of crisis, in a moment of crises…"
He said that Boucher had noted that the data do not support the government's position.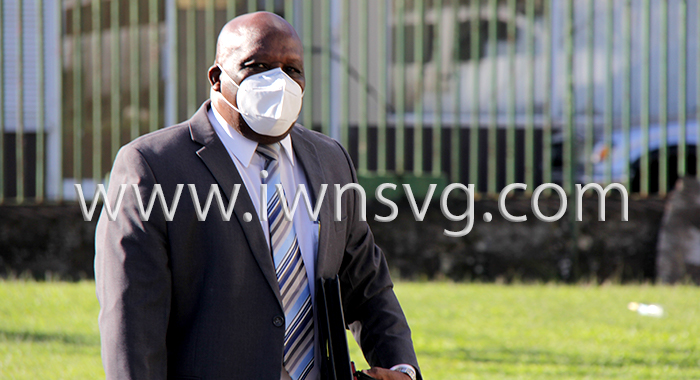 "But just to add to it that we have the reality in St. Vincent and Grenadines, that vaccination is not salvation from this situation, it is not a panacea. You're not going to vaccinate your way out of it with vaccination only. We saw that."
Sam said that the CDC in the United States, this week released data showing that even with the Delta variant, which is more deadly that the current dominant Omicron strain, a person who was infected with COVID-19 "has equal or better immunity from Delta", as with vaccination. 
He said that the CEO of BioNTech, which, along with Pfizer, developed one of the vaccines, has said publicly that triple vaccination "will not solve it, will not stop one from getting or spreading [COVID-19]…
"Everyone of them recognise that that this Omicron is evading and the vaccine is less effective. But then the WHO comes out and says that even emerging variants are likely to evade and reduce efficaciousness and effectiveness of the vaccine," Sam said.
He said that this is enough data for the government to review its decision.
"And I believe that we must not demonise them. And they ought not to be demonised. But also the fact that families, children can't go to school because the parents have not collected salaries for two months, homes are earmarked to be sold by the banks and the financial institution because families have not been paid."
The unions have filed a case in the court challenging the vaccine mandate and the dismissal of the workers.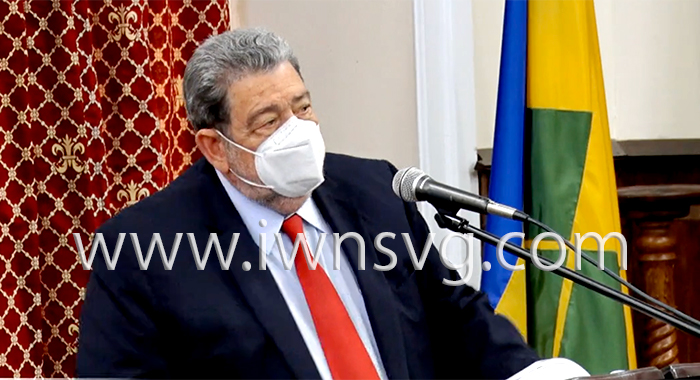 Sam said even though the unions will win the legal battle, "when they win, the damage might have already been done.
"So, again, I believe that the prime minister still has it in him to address the issue, to call the unions in," he said, adding that it is good that the union wrote to the prime minister in this regard last week.
"… because we can't  harden our hearts, we can't take positions while people are suffering. And this is a real issue. It's not just our brothers and sisters in the world but the brethren in the church, in the body of Christ, have also been affected and the Word of God says 'O ye who loves the Lord must hate evil.'
"And I'm not demonising the leadership of the state. But the fact is, it's not a pretty action. It's not good. So it's evil," Sam said, adding that Christ himself says love one another as he has loved us.
"And all we have to do is to speak up; we don't even have to lay down our lives," Sam said.
He said that Education Minister Curtis King, a trade unionist who became a politician in 2020 after retiring from teaching, condemned the 1975 teargasing of teachers, and the transferring of a few teachers to hard areas.
"But here now, it's dismissal; it's not transfer. Those who have been dismissed would prefer to be teargased every Monday morning and be transferred.
"So if you were hurt, and create pain, from teargas, this is dismissal. People don't have a pay cheque and the pay cheque is used — once the workers … have gotten it, it ends the very end of month," Sam said.
"So I urge our honourable prime minister, I believe he still has it within him to sit with his cabinet and have the letters that went out, withdrawn.
"I believe Brother Curtis could help influence the process. And just being human, enough our prime minister would have been on the side of tear-gassed and would have condemned it.
"We cannot make dismissing people fun and something to … talk about everyday in such glowing manner, gleefully; get up on radio everyday and talk about because it is really violence against women, violence against those who have medical conditions, violence against children who depend on their parents, because it's economic violence, it's strangulation," Sam said.
He said he believes the prime minister has it in him "to rectify this situation and bring amicable and swift closure to it".