Team SVG Chess made light work of the Central African Republic players, defeating them 4-0 in Round 5 of the Chess Olympiad, being held in Chennai, India.
Archeveq Vianney Bebondi Koualet, who is rated at 1,679, faced off against SVG's Chinedu Enemchukwu, whose rating stands at 1,889; Florent Kourakoumba, a 1,677-rated player, faced off with Brian Cottle, an unrated SVG player; Sabbas Libert Ndoma, whose rating stands at 1,387, faced off with the unrated Oris Robinson, of SVG; and unrated players Leroy Dolle Degross battled SVG's James Schneider.
The results of Round 5 mean that both Robinson and Schneider were securing their very first wins of the Olympiad.
Robinson hopes to keep on winning as he had 3 losses before this, whilst James has 1 loss and 1 win.
The Vincentian team will play unchanged today, Wednesday, with Enemchukwu coming up against FIDE Master Ricko Depaune of Nauru who is rated at 1,726.
Cottle will play against Thubalkain, who is rated 1,941, whilst Robinson faces off with Yoshi Harris, another unrated player.
Schneider, who is unrated, will play against Selu Jed, who is rated 1,672.
Ugur Mentes will sit in the reserve chair for a second consecutive round.
SVG soured a win and a draw in rounds 3 and 4 of the competition.
On Sunday, Team SVG Chess pitted their skills against Maldives.
For the Maldives, FIDE Master Shuaahu Muhammed, rated at 1,987 came up against Enemchukwu; FIDE Master Ashraf Ahmed, rated 1,838, took on Cottle, Chess Master Fuad Ahmed, rated 1,728 locked horns with Robinson and Mujahid Bin Yazeed, rated 1,418, took on Ments.
Following up on their performances the previous day, Cottle and Enemchukwu kept the Vincentian flag flying. Schneider and Mentes, however, failed to point.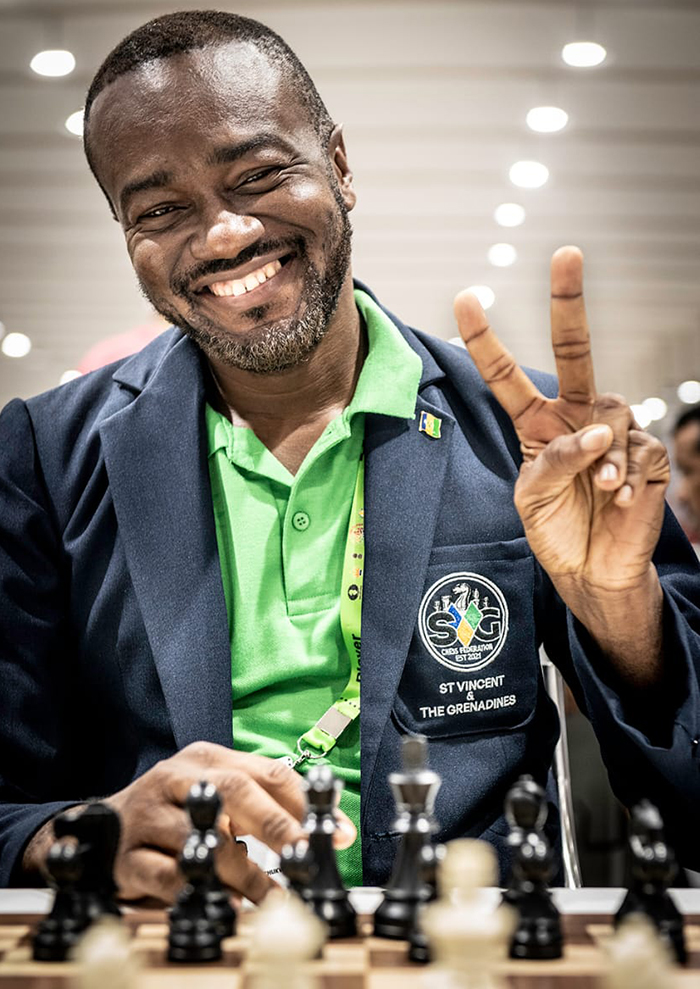 Enemchukwu, who took on FIDE Master Ebrima Bah, rated at 2,078, made light work of his opponent as he checkmated the FIDE Master within 2.5 hours.
Cottle was faced off with Joseph Dalliah, who is rated at 1,920.
Cottle, who took full points, the previous day, switched positions with his captain and after a bruising 3 hours 35 minutes duel, Cottle, who not too long before seemed to have held the advantage, agreed to call it a draw and an evening
Meanwhile, Mentes suffered at the hands of the 1,772-rated Chess Master Ousainou Garber whilst Schneider fell prey in his first game of the Olympiad to Matthew James Riley, another unrated player.
Meanwhile, off board, President of the SVG Chess Federation and Head of Delegation, Israel Bruce participated in meetings of the FIDE Planning and Development Commission on Sunday.
The session focused on how to improve the game across the globe.
Bruce spoke to the need for FIDE PDC to focus on federations in their embryonic stages in a manner different from established ones.
On Tuesday, Bruce participated in the Commission on Education, which emphasised chess in education and how the sport can be integrated in the curriculum of schools, from pre-school to university.
SVG held informal discussions with Grenada and BVI to discuss having an expert in the region to assist in the presentations to state officials and ministers of education, in particular.
On Wednesday, Bruce will attend a meeting of the Constitutional and Ethics Commission.
The players will rest on Thursday and will resume competition on Friday.