Denicia Boatswain, Miss Metrocint General Insurance Services Ltd. in the Miss SVG 2023 pageant scheduled for Oct. 7, has executed her community service project under the theme "The Black Economy".
This year, the contestants were allotted one week to execute their community service project.
On Sep. 9, Boatswain held an anti-crime fun day on the Community College lawn in Diamond.
The event saw members of the community and the Stubbs Police Youth Club participating in cricket and football matches. Music, food, trampoline, morale and dominoes were also a part of the activity. The objective was to give residents of Diamond and surrounding areas a safe space to be active and socialise.
On Sept. 10, the contestant organized a road relay from the Argyle at the International Airport gap to Diamond gap.
There were five teams and five legs in the race. The teams were Stubbs, Calder, Bonhomme, Carapan and RSVGPF.
RSVPF placed third, the Bonhomme team took second place and Stubbs placed first.
The objective was to raise awareness about "the black-market criminal activities" and also show that police officers are making a collaborative effort to work along with citizens to reduce crime.
The contestant held a community crime talk on Sept. 11, with approximately 55 members of the community gathered at the Diamond gap at 5 p.m. to voice their concerns about the black-market criminal activities in Diamond.
Members of the police force were present to address the concern and suggest solutions.  The objective was to highlight issues affecting the community members and police officers and propose solutions that may reduce these criminal issues.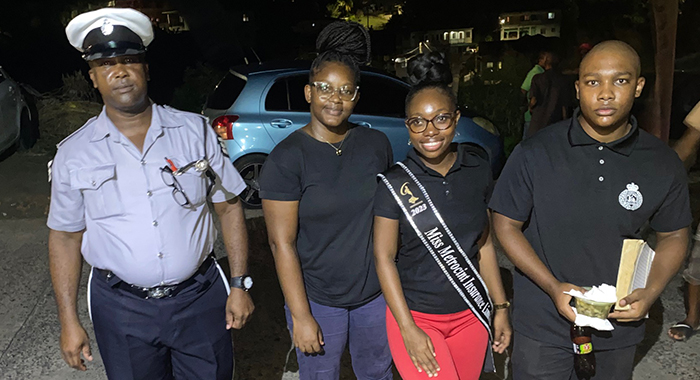 On. Sept. 12 the Stubbs Government & St Clair Dacon Secondary Schools received visits from a 20-year-old ex-prisoner who spent eight years in prison for a murder she committed in 2015, when she was just 12 years old.
The ex-prisoner spoke to the students about why she was incarcerated, her experience in prison and the progress she has made since her offence and release.
On Sept. 13, there was also a prisoners' interactive school session featuring Allana Hudson, 25, who was in April 2022 jailed for seven and a half years for manslaughter in connection with the Sept. 4, 2017 killing of Simonia Da Silva, 23, of Fair Hall and Benjamin Roberts, 70, who was in July 2016 jailed for 12 years for raping his foster daughter 12 years earlier.
The prisoners, both inmates at His Majesty's Prison in Kingstown, told third form students at St Clair Dacon Secondary about their incarceration and encouraged them to avoid criminal activities. Roberts donated a bible to the school.
The main purpose of this activity was to give students an opportunity to hear personal stories from convicted offenders, help students understand why the prisoners committed their crimes and discouraged students from engaging in criminal activities.
Then, on Sept. 15, an anti-crime public speaking competition featured participants from different villages in Stubbs. The participants presented on the topic "Is enough being done to combat gun violence throughout St Vincent and the Grenadines".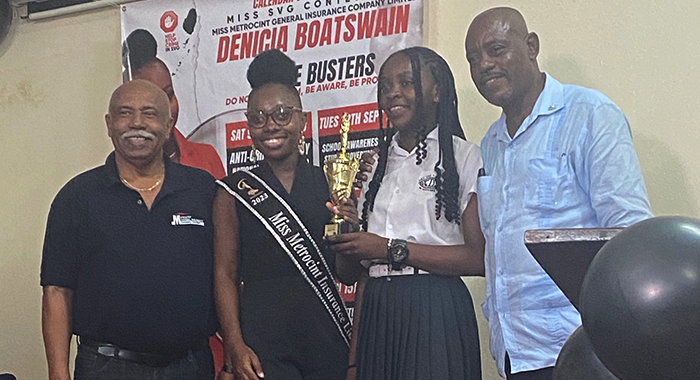 Each competitor delivered two speeches, a main prepared speech and an impromptu speech.
The project aims to raise awareness of black economy activities in Diamond and surrounding areas, educate students on the effects of committing "black economy crimes" and to find ways to reduce criminal activities.
Ebony Nanton, representing Bonhomme, was the overall winner. Second place was N'Kenna London, of Caravan, their place was Kaylan Browne, of Calder.
Nanton gave the best prepared speech while London won the impromptu section of the competition.