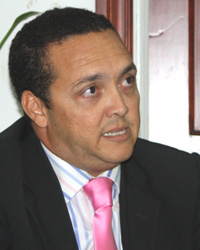 Dwaine Sandy could seek legal recourse against the police for saying last week that he was wanted and should be considered "armed and dangerous".
Sandy's lawyer, Grant Connell, said the actions of the police against his client, who was released without charge on Wednesday, after 48 hours in custody, amounts to "damage to his character".
But Connell also told reporters on Wednesday that while legal avenues are open, he acts on instructions from his clients.
"I have no personal vendetta against anybody. I know what channels we can go down. I can only advise.
"As soon as I receive those instructions and he wants to vent damage done to him in anyway, I will assist and I am sure many brothers and sisters of the fraternity, both locally and throughout the Caribbean, would want to assist," Connell said.
Connell further said he was informed that an "outstanding policeman" had on his Facebook page a photo of Sandy emblazoned with the word "captured".
Connell escorted Sandy to St. Vincent from Grenada on Monday and was met by police at the airport.
"Why not put 'surrendered', if you are going that way? Another (post) stated why would a lawyer pervert the course of justice.
"Well, I don't know if the good man realised that he can be plucked out of cyberspace and brought down to earth to deal with legal ramifications.
"But we will cross that bridge when we reach it," Connell said.