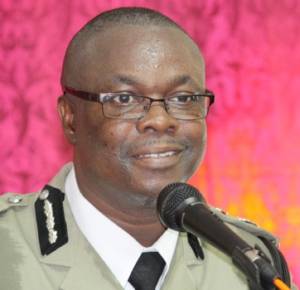 This country will have a new police chief by October but it is highly unlikely to be a female, as lawyer Grant Connell suggested last week.
Commissioner of Police, Keith Miller is due for retirement sometime between September and October but will go on leave next month.
Connell last week described Miller as incompetent and said it is time for the nation to have a female police chief.
But Prime Minister Dr. Ralph Gonsalves told a press conference on Monday that citizens are not too concerned about the gender of the nation's top cop.
"What they want to have is a good person at the top of the Police Force. We have a good Commissioner, he is coming toward retirement and you would want to know that he will be replaced by another good person. And you would want to know that hopefully you can get somebody better than him because he has done a lot for the Police Force and for law and order," Gonsalves said.
"And I think when he is retired and people take a dispassionate view, even some of his critics will find that Keith Miller has done a pretty good job," Gonsalves, who is also Minister of National Security further stated.
Deputy Commissioner of Police, Reynold Hadaway, is overseas completing his degree in law and is expected to return soon.
"It doesn't mean that because you are a deputy that automatically that you would become the Commissioner. So, you wouldn't draw me out on that right now. But I have a clear idea in my mind," Gonsalves said.
He further said there is still a disproportionate number of men in the leadership of the Police Force, with six and a half times more men in the rank and file.
"So you'd expect you would have six and a half times, in terms of the distribution through the various ranks," he said.
He added that he has scheduled a meeting this week with Ministry of National Security officials to discuss succession planning in various areas of the Police Force.
Regarding the lawyer's comment, Gonsalves said:
"Grant may say something for the headlines on a polemical purpose and so forth. But I have a purpose which is larger than that — to see the proper maintenance of law and order and to do things in a methodical and orderly way and which is sustainable."
He, however, added that he has no doubt that the time will come when this country will have a female Commissioner of Police.
He further noted that the number of women enrolling in the Police Force is increasing.
"So it will take a little while for a sufficient number of them to work themselves in the system. … So obviously it will take some time to come through the system."