By Kenton X. Chance 
The leaders of the two main political parties here have given their latest completion timeline for the long-delayed Argyle International Airport, with Prime Minister Ralph Gonsalves saying it will open "quite soon" but Leader of the Opposition Arnhim Eustace saying it will take another five years.
Gonsalves told a rally the Unity Labour Party (ULP) in Arnos Vale on Saturday that a small plane will be used to test the landing lights of the airport on Thursday.
Eustace, speaking at a rally of the main opposition New Democratic Party (NDP) in Layou that same night, said much work remains to be done at the airport, including paving of 40 per cent of the runway.
Gonsalves said that Thursday, Nov. 19 is the birthday of Frederick Stephenson – "The Humble African", who is MP for South Windward, where the airport is located.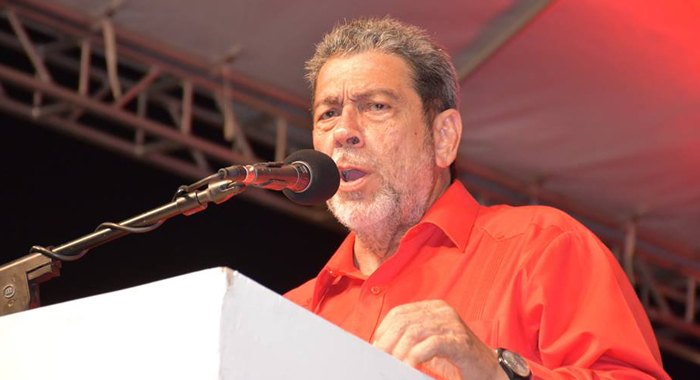 "There is going to be a small plane, which is going to do a test flight, testing the approach lights at the Argyle International Airport. And I have asked them if they will allow me to come on that flight, and I ask them if I can bring along the Humble African," Gonsalves told party supporters.
"Remember they say nothing could land there you know," he said in reference to critics of the EC$729 million project that has missed completion deadlines annually since 2011.
"The point is this, the way the test flight is done for the lights, you have to have a smaller plane and they can see the approach lights and see how you can do the touchdown.
"This is all part and parcel, when you coming to the end of building the airport, before the Eastern Caribbean Civil Aviation Authority put their stamp of approval and say 'Go ahead! Go ahead!'
"We are on the verge of opening it and that is what will be done on Thursday," Gonsalves said, suggesting that the ULP will hold an event to coincide with the test flight.
"I tell you this, I read and I hear what Eustace said 'that he will have to go to an international company to get the money to finish the airport, but first, he will study it.
"And he said in New York that he doesn't think it can open until 2020. Well, that is if you make the mistake and elect them," Gonsalves said.
Gonsalves told party supporters that the NDP has said in its manifesto that they want to keep E.T. Joshua Airport, the nation's main airfield, functioning until 2020.
"Why would you want to keep E.T. Joshua functioning until 2020 if you're not intending to keep Argyle waiting until 2020," Gonsalves said.
"But I want to tell you I have all the money to finish the airport because there is very little that remains to be done on the airport, and the airport will be finished soon and open quite soon."
Gonsalves noted that Parliament has approved a loan for US$5 million from a bank in Taiwan, adding that all the documents have been signed on that loan.
The same thing was done for US$16 million through any agency of the United Kingdom government and the documents are signed and the equipment has been received," he said.
Gonsalves said that the monies that developers owe for lands in Canouan will come "very shortly" and so too, the balance of the money from the ALBA Bank.
"We have all the money, we don't need no money from no international business company that Eustace them talking about. We don't need none of that money. We gone past that long time, and, as you're seeing, everything at the airport is winding down and we are finishing. And that is the realty. But nobody is going to get me to open the airport before I dot every 'i' and cross every 't,'" Gonsalves said.
He further said that his government — which is yet to name a single airline that has agreed to fly to Argyle — has airlines lined up to service the airport.
"Glen Beache (head of the Tourism Authority) has just come back from Canada and he has given a report on the airline from Canada which is coming; similarly, out of America – at least two airlines; and also from Europe," Gonsalves said, but did not name any airlines.
"So, I want to tell you this. And when you hear them talking, leh me emphasise this: when you see Vincy Heat plays the United States of American in September next year on what is the Labour Day weekend in the United States, we will have Labour Day weekend here and the planes shall be coming, the big jets, and landing at Argyle International Airport to bring people from overseas to see Vincy Heat play America here in St. Vincent and the Grenadines," Gonsalves said.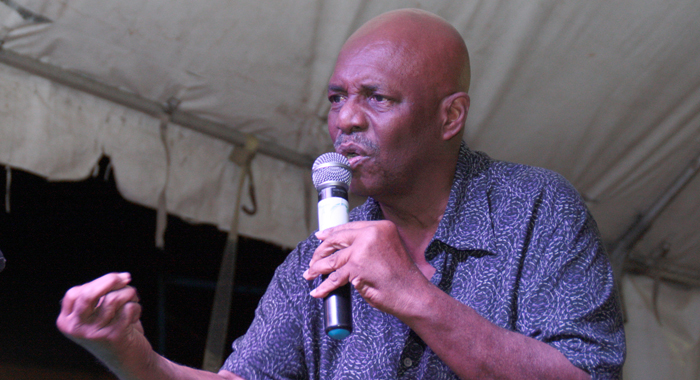 At the NDP's rally, Eustace said that his party has outlined its position on the airport in its manifesto, which has been released online and will be distributed in hardcopy from Monday.
(Read the NDP's manifesto)
"I know that the burden is going to fall on the New Democratic Party to finish that airport…" Eustace said.
"And that will be a burden itself, larger than any other burden we face at this time because I do not believe and there is evidence to suggest that that airport will not finish in 2016, it will not finish in 2017, it will not finish in 2018, and we are looking now to 2020 before that airport is completed."
Eustace said that consultants hired by the NDP estimated in 2008 that the airport, which has been under construction for almost eight years, will cost EC$1.1 billion, EC$272 more than the government's estimate.
"When the government was saying 400 hundred and something million, our consultant was saying $1.1 billion. Well they reach 800 and they have plenty things to do still."
He said work on the US$32 million fuel farm is yet to begin. "The runway, only 60 per cent of it paved, the other 40 per cent has to be paved. That is million and million of dollars," Eustace said.
"You have 61 land owners out there whose land they took away and they have not been paid for the land. That is another 20-something million dollars. So, a lot of money has to be spent on the airport. And with all the old talk of Gonsalves, he is unable to manage the finances of that airport, and things are just as bad as they were.
"But we have given a commitment that our government, a New Democratic Party government, will in fact have to deal with the airport in the same way that we will have to deal with our new hospital.
"But, there will be one big difference. Ours will be managed process. Managed by persons who are competent to provide that management. So when that hospital opens, it will be a job well done and it will come in time with the budget that we but at it," Eustace said.