The team that represents St. Vincent and the Grenadines at the track and field element of the 2018 CARIFTA Games includes "a number of potential medallists," says team coach Rawlson Morgan.
He, however, said that the team, at the national level, is being negatively affected by rivalries between the players' individual coaches.
"When I looked at us out there and I look at the reason why some persons didn't get a medal, this stupidness (nonsense) that we have — and I am going to say it now — this stupidness we have when a team is selected, athletes cannot come together and have a cadres of coaches to work with them, we have to throw that out of the window. And that affected the team a lot," he said Tuesday at a welcome reception for the team at Argyle International Airport.
Morgan said that the team has to be selected earlier and the athletes have to work together with a group of coaches behind them so it would all work to the benefit of St. Vincent and the Grenadines.
"We have to change this psyche where coaches believe 'What this person would do to my athlete?'
"Once the team is selected, coaches are welcome to come around and assist, because at the end of the day, if the athlete does well, it would mean that the coach does well.
"But, at the same time, it is about St. Vincent and the Grenadines. And look at us today. Right now, everybody is talking about the athletes, not the coaches. So we have to work together in order for better things to happen for St. Vincent and the Grenadines," he said.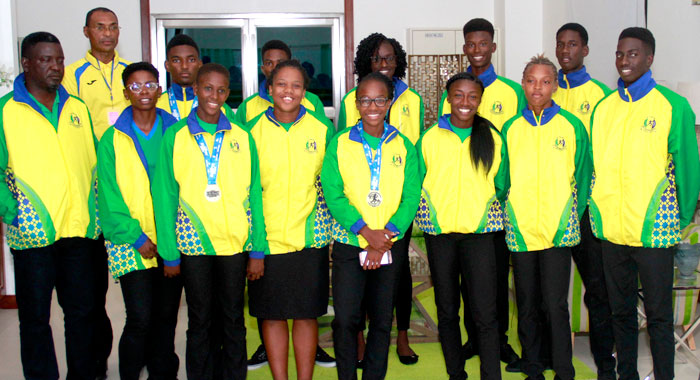 St. Vincent and the Grenadines won gold in three events, including its first gold in swimming in the Games which took place in The Bahamas and Jamaica over the Easter weekend.
Morgan thanked the athletes for their performance.
"Once again, they … have put St. Vincent and the Grenadines on the CARIFTA map. And not just any medal, two gold medals," he said, speaking specifically about the track and field squad, which he accompanied to The Bahamas.
He said he was thankful for the coaches that worked with the athletes throughout their preparation.