The views expressed herein are those of the writer and do not represent the opinions or editorial position of iWitness News. Opinion pieces can be submitted to [email protected]. 
In the Tuesday, January 19, 2016 edition of the Searchlight newspaper, Sabota Caesar, Minister of Agriculture, is said to have made a request in a press conference the day before, "…to persons in the diaspora, especially in North America, who are interested in trading in agricultural produce from St. Vincent and the Grenadines (SVG) to come forward" (Agriculture Minister makes call to diaspora, p. 2).
Caesar directly linked this call to "… the coming on stream of Argyle International Airport (AIA)", arguing that this will mean "… trade between this country and North America is set to take off and the time is right for interested persons who wish to do business with local farmers to show interest."
The Minister also said, "But it is not going to happen by wishful thinking or by us simply sitting back and not being active in creating a cadre of persons who will be ready and willing to take up this opportunity to export produce utilizing the Argyle International Airport…. We are making a call for persons in the diaspora, North America. Persons who are willing to be traders between SVG and North America to express interest … We want persons in the diaspora to come forward now that we have a comparative advantage in our trade. We want people to come forward and discuss how we can put in place the best framework."
Caesar also added that, "… we are going to see a positive evolution
in the exportation of fish, with the opening of the AIA … [W]e want persons to be involved in the fish trade."
The Minister has said much of this before.
Now he has tossed in two more questionable points: (1) what "comparative advantage" do we have "in our trade" when we would have to complete with low cost mega-agricultural producers from Latin America, West Africa, and South Asia and (2) which "interested persons" does he expect to attract who would be willing to bear the high costs and risks of purchasing, transporting (via expensive refrigerated cargo planes), and wholesaling our farm and fish products overseas when we can't even attract "interested persons" from away to invest in our tourism industry, the proposed backbone of AIA?
Is Caesar actually oblivious to the fact that many types of ground provisions sold in London, New York, and Toronto supermarkets brought by ship from extra-Caribbean tropical destinations are far cheaper than their counterparts sold in our very own Kingstown Market? The same holds true for all manner of fish items.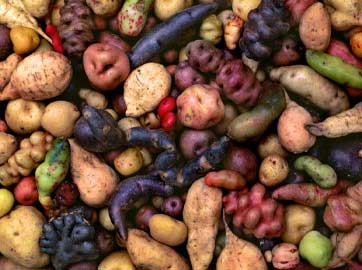 What Caesar always fails to acknowledge is that all over the world farming and fishing products have forever been successfully and economically transported by ship. In an earlier era before refrigeration, the shipment of large quantities of certain raw agricultural products over long distances was limited. Not so for aquatic resources which were packed in ice, canned in bottles, pickled in brine, or smoked either at their source or on the ships themselves.
The introduction of ship refrigeration in the latter part of the 19th century revolutionized this transit of fish, meat, fruit and vegetables:
"The Dunedin (1876–82) was the first ship to successfully transport a full cargo of refrigerated meat from New Zealand to England. In this capacity, it provided the impetus to develop the capacity of New Zealand as a major provider of agricultural exports, notwithstanding its remoteness from most markets".
This revolution is far from over as more and more chilled, frozen, salted, canned, and smoked produce is sent by boat all across the globe year after year.
By comparison, transporting food and nearly all other produce by cargo aircraft is simply too expensive which is also why most food and manufactured items are moved by train and truck in continental areas lacking nearby water access.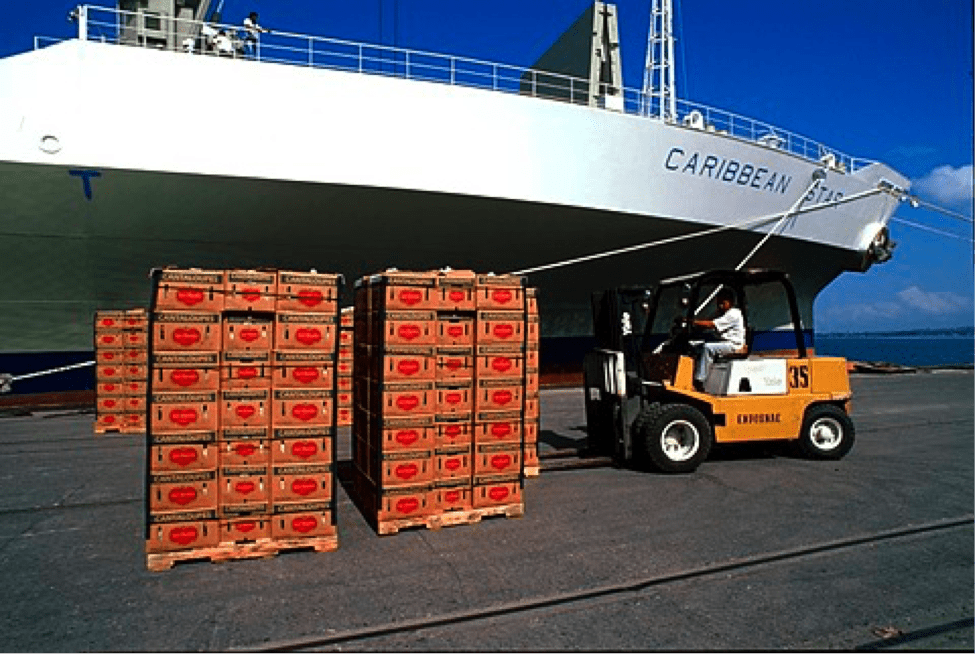 As I have already argued, "The Minister [of Agriculture] knows full well that: the tonnes of fish caught by Japanese trawlers in our waters are shipped thousands of miles home to Japan by refrigerated ships (as in commercial fisheries all over the world); no other foreign interests are going to invest in our local fishery when they can continue to steal from our waters at will; we can barely satisfy our domestic needs, especially for large species, due to overfishing; transporting most sea products by air is prohibitively expensive; fish shipped by air or boat from SVG to North America or Europe could never compete with cheaper fish shipped there from Asia and Africa; and we don't have enough live crustaceans (lobsters, crayfish, conchs, etc.) left in our waters or rivers to export anywhere outside the country"
About the only aircraft transporting tropical produce — from sea and land — are those carrying the overpriced and often overripe or spoiled goods found in small ethnic grocery stores located far from the seven seas some of whose foodstuff is forwarded to them by plane after it has reached a large maritime transshipment point by boat.
If shipping agricultural produce by air is bound to enhance overseas sales, as the Minister claims, why have the millions of tonnes of root crops and other farm items sent to Trinidad — our main regional export market — for decades all been transported by boat?
Planes are great for moving people in a hurry as well as for sending produce that needs to be shipped before it spoils (like flowers and certain live medical supplies). For the rest, as Minister Caesar surely knows, boats, trains, and trucks will long remain the cheapest way to send all manner of goods over great distances.
***
This is the 23rd in a series of essays on the folly of the proposed Argyle International Airport.
My other AIA pieces may be found at:
C. ben-David