The views expressed herein are those of the writer and do not represent the opinions or editorial position of I-Witness News. Opinion pieces can be submitted to [email protected].
The slow, twisting, and potholed road leading to the completion of Argyle International Airport (AIA) has been a deceptive route we have foolishly been taken down by our "smart man" Prime Minister. We have already built two white elephant airports, a regional facility in Bequia and an international jetport in Canouan, islands with far more tourism potential than the mainland but have learned nothing in the process, not even what a chronically underused Arnos Vale airport and Kingstown cruise ship terminal portend for AIA.
Nor have we learned anything from the flourishing demand-driven private sector tourism industry in other Caribbean countries.
Carnival Corporation, the world's largest travel and leisure company, will welcome guests at its newly developed Amber Cove cruise ship terminal in the Dominican Republic, a tourism powerhouse if there ever was one, beginning in October 2015. The Corporation financed the project on its own at a cost of $US 85 million. How likely is it that any similar hospitality project, even with 100 percent government financing, would ever grace our mainland, especially when our existing cruise ship terminal is empty most of the time?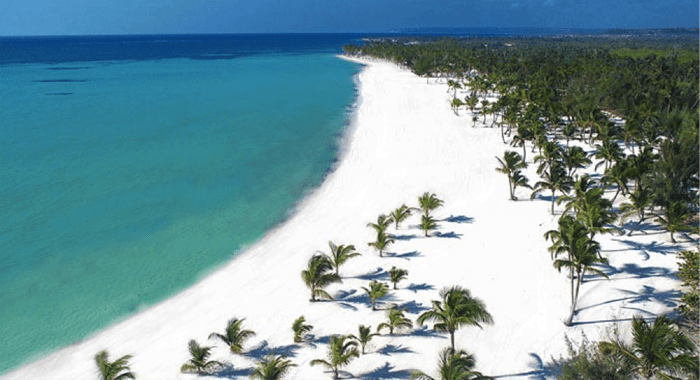 Meanwhile, our neighbour, Grenada, just recorded a 19 per cent increase in arrivals from 2013 to 2014, almost equally divided between cruise ship and stay-over visitors .
Our numbers in both categories have been stagnant or in decline for years.
About the only redeeming feature of our foolish and wasteful AIA project is that it may be eco-friendly (http://www.caribbeannewsnow.com/topstory-New-airport-in-St-Vincent-to-become-second-most-eco-friendly-airport-in-Eastern-Caribbean-25613.html). But this only highlights the amount of environmental neglect under this and previous regimes. Do we really expect tourists to sunbathe on the beach at Layou shown below?
Pretending to be eco-friendly began in the 1980s with the Sir James Mitchell government's seeming aversion to mass commercial tourism, neatly summarized by the slick promotional slogan, "St. Vincent: The Natural Place to Be." The Mitchell government even declared the 1990s as "the decade of the environment", another empty slogan.
All this eco-tourist rhetoric only served to mask the fact that as hard as we might try we could never hope to match the number of holiday visitors to nearby Barbados or St. Lucia by pretending to reject the mainstream 3S large-scale tourism model of sun, sand, and sea. Sun and sea we have in abundance but our black sand beaches have no appeal to tourists and little to our own people, most of whom have not gone to the sea in years.
But our non-3S sector is just as limited. With no lakes to boat on, no rivers to swim in, no hot sulphur springs to bathe in, and only a few remote waterfalls to shower under, all we can offer is lots of inaccessible forest land and a semi-active volcano, hardly the basis for much eco-tourist interest. Still, small-footprint tourism was beginning to take off around the world during the 1980s and seemed to offer some hope for boosting our mainland visitor numbers, so the Mitchell government jumped on the eco-friendly bandwagon.
The results have been less than impressive, partly for of all the reasons I have already given in these essays (poor tourism promotion, few natural wonders that would attract large numbers of eco-tourists, relentless environmental neglect and degradation, inadequate site development and maintenance, etc.). Combined with the self-limiting nature of eco-tourism in sensitive locations — the more footprints on the ground, the more damage to fragile forest, river, and mountain environments — there is not much hope for large and habitat sustainable eco-tourism increases on our mainland.
St. Vincent Island will long be a bush-league travel destination in so many other ways as well — a place where daytime offers little amusement, entertainment, recreation, or duty-free shopping and nightlife offers mainly ear-splitting and tuneless karaoke — yet we pretend that we can be a major league holiday player with this foolhardy airport project.
No better example of both our inability and unwillingness to compete with regional festive offerings that appeal to tourists and locals alike was the decision in 1976 to move our traditional pre-Lenten Carnival celebration to the end of June because so many international visitors and many of our own people chose to attend the more lavish and better organized Carnival in Trinidad. Rather than working to improve our own product, we simple gave up and chose a date when there would be no other competition. This does not speak well to our motivation or ability to succeed in the competitive holiday market.
This is not to say that we don't have some excellent amateur and semi-professional singers, musicians, and ensemble groups. But with almost no clean, elegant, spacious, and well-equipped indoor and outdoor venues for them to showcase their talent and make a good living performing nightly before the thousands of young, party-loving tourists that AIA is promising to bring in, all the talent in the world matters not a twit.
There is a simple lesson here from these and other examples: when the hospitality sector repeatedly shuns the same commercial opportunities for hotel, resort, and attraction development, even after decades of rich tax and other subsidies because of stagnant visitor numbers and little tourism potential, but the Prime Minister stubbornly (though shrewdly) refuses to accept "not interested" for an answer and proceeds to build a bogus airport bound to end up costing at least one billion $EC, the tax-paying public should be afraid, very afraid.
But few Vincentians seem to fear the tragedy this phoney show-port adventure will bring us. Even our aged faction of pseudo-intellectual left-wing activists who used to shout "tourism is whorism" now mindlessly and hypocritically proclaim that a lot a foreigners looking for a nice time the 4S way — sun, sea, sand, and sex — will be our economic salvation. As I and others have repeatedly said, if SVG had the tourism potential to support an international airport, it would have been built decades ago.
In another laughable statement, the CEO of our tourism authority, Glen Beache, has just declared that, "Our new Argyle International Airport is going to transform the tourism industry, making SVG one of the most sought-after and 'green' destinations in the eastern Caribbean", implying that two megawatts of solar-generated electricity would be sufficient to bring in thousands of new visitors to gaze in awe at our bargain basement airport.
Ironically, our declining agricultural sector, which has also been full of ups and downs since the late start of large-scale sugar plantation agriculture in the last decades of the 18th century, still has some intrinsic advantages (apart from the free solar energy) — that the hospitality industry lacks: a farmer can always eat his figs when the main overseas market disappears. Or she can try another export crop, switch to growing more food for local sale, or raise more animals for home or regional markets. If all else fails, the land can always be leased, rented, sharecropped, or even sold to someone better able to utilize its potential. After all, thanks to Almighty God, mainland St. Vincent is a veritable Garden of Eden, a land blessed more than most with huge swaths of fertile land and more than enough sun, rain, and varied elevations to grow all manner of tropical plants and sustain all types of livestock. So our farmers have lots of life-sustaining options, even if they will never get rich utilizing them and even if countries with lots of small farmers are poorer than those with very few .
No better proof of the fearless resiliency and exceptional work ethic of our people when confronted with a real economic opportunity is the way thousands of poor young men took to the hills beginning in the 1970s to grow ganja — a extremely profitable though illegal plant — to enhance their economic well being.
Not so for the hospitality sector which has only one option: get more customers or face economic ruin. Our country is a virtual graveyard of derelict small hotels, guesthouses, restaurants, sports bars, rum shops, amusement parlours, and the like, many of which have changed hands time and again, with the same result. To be sure, there are thousands more acres of idle land in SVG than there are cultivated plots. But even idle land has intrinsic value. As the old people say, "land na rotten": it just keeps or increases its value while getting more fertile as the years pass, a continual source of "interest payments" for generations to come.
Small-farming would never lift us out of our lower middle-income status but at least it will keep feeding us; dependence on international tourism and its unstable low-wage seasonal jobs will do neither while crushing us with debts and operating costs that will be impossible to service because we would never get enough visitors to make the AIA project worthwhile.
The reasons we will always have few mainland tourist customers should be plain to see for any Vincentian who has travelled. But relatively few Vincentians have ever left the mainland except for a brief day-trip to Bequia's ho-hum Port Elizabeth. This is not to denigrate the largest of the
Grenadines islands. Bequia has several attractions to offer tourists including white sand beaches and a lively Easter Regatta which hosts thousands of mainland and overseas visitors and which recently celebrated its 34th anniversary.
Still, most of our citizens, even those who have attended the multi-faceted Regatta, seem totally oblivious to the mainland's countless tourism shortcomings, including the filthy, ramshackle, and depressing neglect of our city, towns, villages, beaches, roads, paths, and rivers, something most of them tend to take for granted as the natural state of the "Natural Place to Be."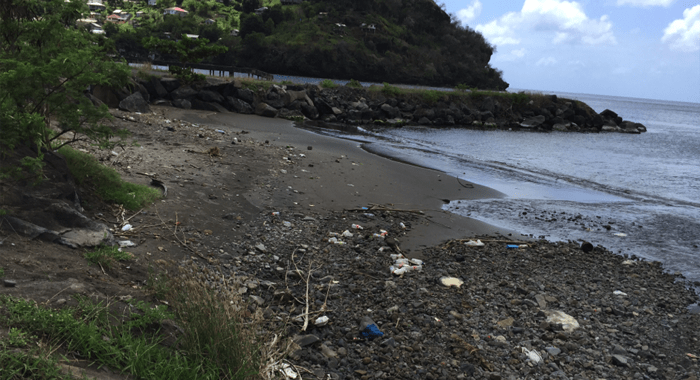 ***
ENDNOTE
This is the twelfth in a series of 15 essays on the folly of the proposed Argyle International Airport.
The rest may be found at:
***
C. ben-David