The views expressed herein are those of the writer and do not necessarily represent the opinions or editorial position of iWitness News. Opinion pieces can be submitted to [email protected].
Key to the success of Argyle International Airport (AIA) will be its ability to attract tens of thousands of additional international tourists from our main tourist markets (the United States, the United Kingdom, Canada, and other Caribbean countries). Since the existing E.T. Joshua Airport at Arnos Vale is now the final destination of most foreign stopover visitors, a close examination of arrival numbers should provide us with important clues about both the necessity and potential viability of AIA.
The data in Table 1 show large see-saws in stayover air passenger visitors to the five St. Vincent and the Grenadines (SVG) airports (Arnos Vale, Bequia, Canouan, Mustique, and Union Island) during the 15-year 2001-2015 period.
Table 1. SVG Stayover Visitor Arrivals, 2001-2015
| | | |
| --- | --- | --- |
| Year | Air Stayover Visitors | % Change |
| 2001 |        70,686 | — |
| 2002 |        77,622 | +9.8% |
| 2003 |        78,535 | +1.2% |
| 2004 |        86,721 | +10.4% |
| 2005 |        95,504 | +10.1% |
| 2006 |        97,432 | +2.0% |
| 2007 |        89,637 |    -8.2% |
| 2008 |        84,101 |    -6.2% |
| 2009 |        75,446 | -10.3% |
| 2010 |        72,478 |    -3.9% |
| 2011 |        73,866 | +1.9% |
| 2012 |        74,364 | +0.7% |
| 2013 |        71,725 |    -3.6% |
| 2014 |        70,713 |    -1.4% |
| 2015 |        75,381 | +6.6% |
| Total | 1,194,211 | |
(Source)
Though the 2015 numbers were nearly 7 per cent higher than the previous year, they were still over 9 per cent lower than the average of the 14 preceding years, not a good sign that there is a growing demand for an international airport, especially since LIAT, the main E.T. Joshua International Airport carrier, flies in and out of SVG at far less than full capacity most of the year.
Some of the variation in Table 1 is the result of external factors rooted in the volatile and risky nature of the global aviation industry, an economic sector largely based on the spending of discretionary income or business profit by the travelling public. When Western economies experience severe downturns, as they did twice during the 2001-2015 period, many potential travellers just stay home.
The ups and downs in these figures also reflect the inability or unwillingness of people to travel abroad due to local nature disasters such as massive flooding which cause extensive damage to local infrastructure. Variations in overnight airport visitors also occur when people are afraid to travel because of local or regional epidemics (like the previous chikungunya and the current Zika virus outbreaks) or other threats to tourist safety (such as surging crime rates leading to official travel alerts).
But what alternatives do we in little SVG have to investing massively in the uncertain holiday travel industry? The decline in agricultural production, which actually began in the mid-19th century and accelerated decades before the present regime took power and which even speeded up with the removal of protection for our bananas in the British market, processes we had no control over, combined with the inability of our few remaining small estates and hundreds of even smaller unmechanized peasant holdings to compete with larger and more efficient industrial-scale food producers around the tropical world, exacerbated by the absence or insignificance of other livelihood and developmental options, has forced the present Unity Labour Party regime to displace existing farmers and homeowners, sell off large swaths of Crown lands, and borrow hundreds of millions of dollars hoping that investment in tourism infrastructure alone, especially the construction of AIA, a project the opposition New Democratic Party now supports, however reluctantly and regretably, would lead us to the promised land of more job creation and increased wealth.
I have repeatedly suggested why this is unlikely to happen but have failed to examine perhaps the most important economic issue of all, namely why AIA will fail to stimulate enough holiday arrival numbers to justify its construction and maintenance simply by looking at existing tourist levels.
In an earlier essay, I argued that:
"… [O]ur cruise ship passenger and E. T. Joshua airport numbers, both individually and collectively, together with the tourist figures presented throughout this series of essays for our Caribbean neighbours, are a good proxy for expected passenger arrivals at AIA. My best guess is that if AIA brings in even 21,000 additional visitors five years after its completion, this would be a miraculous achievement. This number is half-way between our current E. T. Joshua numbers (74,000) and Grenada's current airport numbers (116,000), a figure which gives extra credit to the latter's superior tourist offerings and decades of hospitality experience".
But this rough estimate neglected the key issue of the makeup of local arrival levels. This was largely because of the absence of published data on how many extra-Caribbean visitors — mainly tourists and business people — now land at E.T. Joshua International Airport to spent at least a single night in some kind of paid accommodation on the mainland, exactly the type of people AIA is meant to attract.
This data would be easy to tabulate and publicise since it is collected on the Immigration/Customs Form every passenger who lands in SVG, whether a visitor or returning resident, is obliged to complete.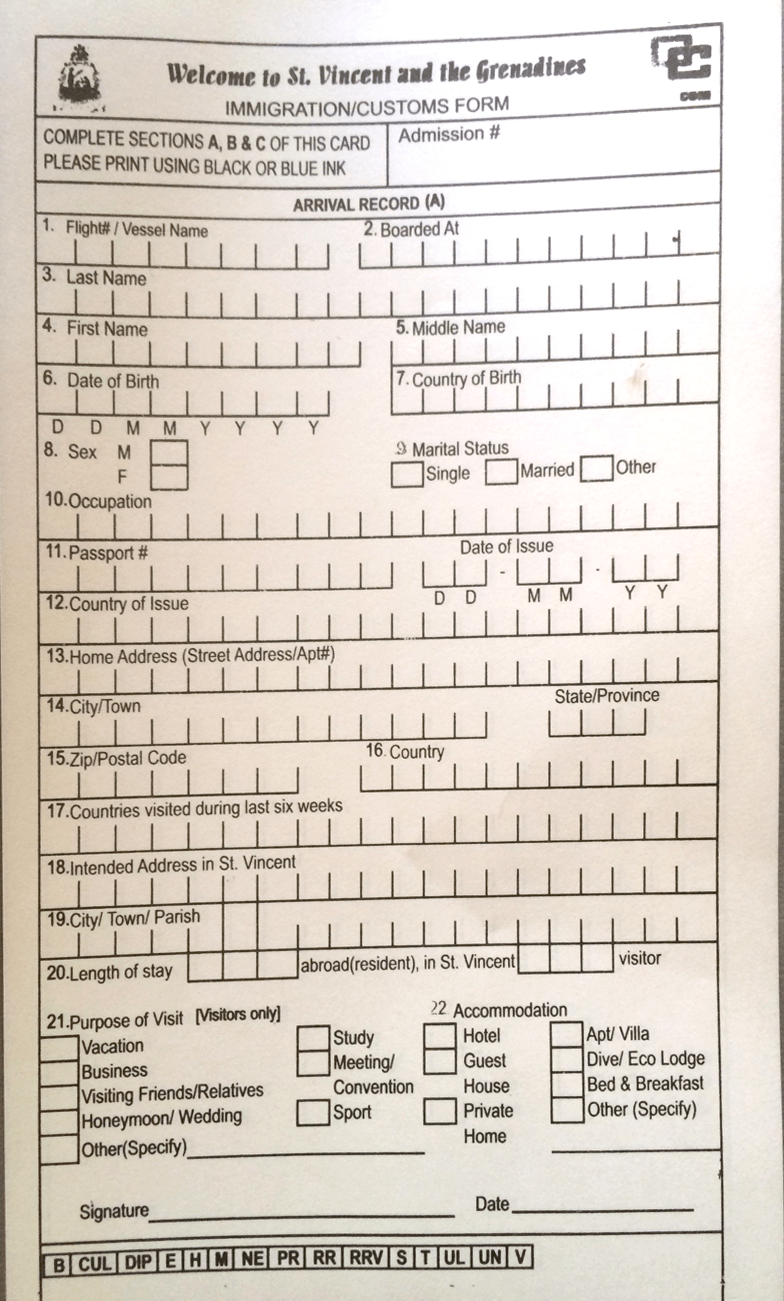 This form contains information on place of residence, citizenship, intended SVG address, type of accommodation selected, proposed length of stay in SVG, and purpose of the visit — all the data sufficient to determine the annual number of international holiday and other visitors to the mainland.
Since this number is not made available to the public by the SVG Tourism Authority (SVTA), it can only be crudely estimated from the data they do make public, which is why I have been reluctant to address this critical issue until now.
Among the relevant things we do know for 2015 (based on figures kindly supplied to me by the SVGTA), a year that saw the highest stop-over arrivals since 2009, is: how many stayover foreign visitors landed at Arnos Vale airport (50,271); how many landed in the Grenadines (15,515); how many stayover air visitors were Caribbean residents (19,819); how many stopover visitors were here on pleasure (33,630) and how many for business (11,385); and how many stopover visitors came to visit friends or relatives (15,376).
Despite these and other data that are given (including how many stopover visitors stayed in private homes as opposed to hotels and other rental accommodation), only the crudest of extrapolations are possible without the cross-tabulation they are crying for. So I will leave readers to make their own inferences and offer only one of many possible scenarios based on the following three assumptions: (1) the 19,819 Caribbean-residing visitors must be subtracted from the total; (2) 90 per cent of business travellers probably stayed on the mainland but must also be largely discounted because their numbers are unlikely to go up by more than 10-20 per cent with the completion of AIA; (3) 90 per cent of stopover passengers who came to visit friends or relatives landed at Arnos Vale of whom 90 per cent stayed in the homes of these or other friends and relatives; and (4) 90 per cent of Grenadines air arrivals were tourists.
The last assumption suggests that no more than 20,000 of 33,630 holidayers who landed in the country in 2015 did so at Arnos Vale airport.
The other assumptions suggest that of those who entered via E.T. Joshua Airport, the facility AIA is being built to replace totalled 6,367 people — rounded off to 6,500 to account for possible business travel increase with the operation of AIA — were extra-Caribbean St. Vincent Island stopover tourists who found accommodation at some for-profit establishment on the mainland, exactly the cohort of people that AIA is intended to capture in much larger numbers.
So why did I "arbitrarily" factor out the 19,819 Caribbean residents (many of them Vincentian nationals living on other islands) who spent at least one night visiting SVG in 2015, most of whom arrived at E.T. Joshua International Airport via LIAT from Trinidad (6,612), Barbados (5,635), St. Lucia (1,668), and Grenada (906) to stay mostly at private homes?
My common sense hypothesis is that these types of Caribbean residents will someday fly here in roughly the same numbers using LIAT or Caribbean Airlines (if the Honourable Dr. Ralph E. Gonsalves' regime ever gives this established regional and international airline landing rights here), but will land at the new Argyle International Airport instead. In short, these 19,819 visitors need to be removed from the 50,271 who landed at Arnos Vale to gain a more reliable assessment of the possible role of AIA in substantially increasing travel here by extra-Caribbean tourists — mainly those wishing to fly non-stop from the four major overseas departure hubs in London, Toronto, New York, and Miami — but who are allegedly dissuaded from doing so by the absence of an international airport.
The same reasoning was behind my decision to remove most business travellers from by computation because there is no evidence that such visitors are currently dissuaded from coming here because of the alleged "inconvenience" of a lack of non-stop flights to the mainland and because 61 per cent of them already come here directly from other Caribbean countries.
The Grenadines visitor air stayover figure of 15,515 (a small proportion of whom are listed as Caribbean nationals and up to 10 per cent of whom were business people) probably double counts the large number of tourists who landed at Arnos Vale but then travelled by boat to the cays sometimes after a night or two on the mainland, on the one hand, and ignores the impact of at least hundreds of annual visitors to the keys who arrive by yacht for a lengthy stay mainly at pricey and well-staffed villas, on the other.
If my assumptions are reasonable, what this means is that the tiny Grenadines probably have many more stayover non-yachting extra-Caribbean visitors than the much larger mainland, an assertion I will prove in a subsequent essay. So much, for Prime Minister Ralph Gonsalves' pie in the sky assertion that:
"… the full realisation of the potential of our country's growth and development hinge on an international airport…. The requisites of economic diversification and regional and international competitiveness demand an international airport. Our country's tourism potential would not be fully realised unless we build an international airport".
More particularly, there is no reason to assume that AIA will have any significant effect on growing tourism in the long popular Grenadines since those who might land at Argyle (instead of Barbados, Grenada, or St. Lucia, as they currently do) would still have to fly or take a boat to their final destination in the cays, hardly an extra incentive for more tourist arrivals. The best recent evidence supporting this assertion is the announcement of new resort expansion in Bequia.
Though personal anecdotal experience should take a back seat in deconstructing these kinds of numerical data, I have to note that on the 20 or so return trips from Barbados to SVG on Carib Air, LIAT, Caribbean Star, and various charter airlines over the past 45 years, my recollection is that the overwhelming number of passengers at different times of the year languishing in Barbados or in the claustrophobic exit lounge at Arnos Vale were people who looked and sounded like me, which, if accurate, suggest my 6,500 foreign visitor figure may be on the high side. Conversely, in more recent years, whenever I have gazed at passengers heading to the Grenadines from the segregated Gates 1-9 in Barbados, I have seen only lily-white folks allegedly eager to darken their complexion under our scorching tropical sun. These random observations can be confirmed easily by others: how many foreign white tourists can be spotted wandering around Kingstown on days when no cruise ship is in port?
One final assumption: Two years ago our tourism minister, Cecil "Ces" McKie, wildly predicted that:
"So where we welcomed just over (a few) visitors by air each year now, we expect that those numbers will triple in the next two years once the international airport is opened".
Though the Minister was at least three years off in his prediction of the airport's operation, he was surely referring to the 2013 figure of 71,725 total airport arrivals which would translate for him into over 210,000 overall visitors by 2019 (assuming the airport is even open for business next year), an estimate that I have repeatedly argued wrongly assumes that overseas Vincentian nationals and most business people are dissuaded from coming here because of the absence of an international airport. On the other hand, assuming he is correct on a tripling of arrivals whenever the airport is up and flying — but using my 6,500 guesstimate on current foreign holidayers instead — a more reasonable number would be 13,000 additional tourist visitors, a figure that could not possibly justify the construction of what is looking more and more like a billion-dollar boondoggle.
***
This is the 33rd in a series of essays on the folly of the proposed Argyle International Airport.
My other AIA can be found below:
C. ben-David