By C. ben-David
"It is well-established that St. Vincent and the Grenadines [SVG] has the most diversified and fascinating tourism product in the Caribbean. Opportunities galore are being opened up with this [Argyle] international airport [AIA], including for yachting and cruise tourism". — (Honourable Prime Minister Dr. Ralph E. Gonsalves, An Apex Moment, Commemorative Magazine, Interactive Media Limited, Feb. 14, 2017, p. 13).
***
An international airport began operation on Feb. 14 at Argyle, St. Vincent Island (SVI), to encourage mass international tourism on our mainland based on the premise of Prime Minister, the Honourable Dr. Ralph E. Gonsalves, that:
Our country's tourism potential would not be fully realised unless we build an international airport [because] Foreign [hospitality industry] investors often shy away from St. Vincent and the Grenadines [SVG] when the limitations of air access arise due to the absence of an international airport…" (see essay 21 below for source).
I have repeatedly argued that this assertion is unsupported because there are many holiday destinations around the world, including tropical islands in the Caribbean such as our very own Grenadines, with thriving tourism industries but no international airport (see essays 7, 10, 31, 38, and 43).
Nor could the words in the Prime Minister's essay in the specially commissioned AIA "Commemorative Magazine" published by the owners of Searchlight newspaper, as quoted above, refer specifically to the mainland of SVG. Indeed, if any reputable tourism body has ever claimed that SVG has the "… most diversified and fascinating tourism product in the Caribbean," it would be about the combined mainland and the Grenadines, together comprising a chain of 32 islands and cays. This is a spurious travel grouping, to say the least, since the tiny Grenadines islands would be largely unaffected by traffic to AIA if only because the cheapest, most convenient, and most frequent air access would continue to be through Barbados, St. Lucia, or Grenada. As for "yachting and cruise tourism," these activities are not only largely indifferent to local air traffic but even antithetical to its very existence.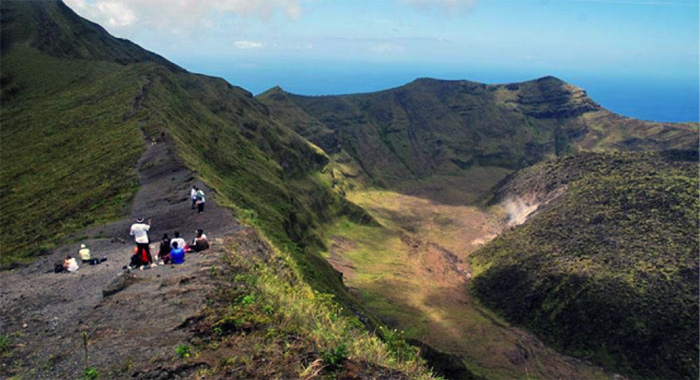 But there is another more convoluted assumption implicit in these two statements by Dr. Gonsalves, namely, that our mainland tourism potential is now being only partially realised because we already have both the quantity and quality of tourist attractions to satisfy the wants of discerning international holiday travellers who fail to come here only because of the alleged inconvenience of spending a couple of hours transiting through one of our neighbours — Barbados, St. Lucia, Grenada, or Trinidad.
In short, having built AIA, extra-Caribbean tourists will now flock to St. Vincent Island (SVI) in record numbers because they would have done so long ago, given its obvious attractions, save for the absence of non-stop flights from overseas.
In interrogating this implicit hypothesis, I offer a contrary, indeed contrarian, assumption, one that has earned me (and others with the similar views) the label of being unpatriotic, even traitorous. Simply stated, although we now have an international airport, our tourism attractions are insufficient in number, type, and quality to attract enough new visitors to ever make its construction economically worthwhile.
Before providing the supporting evidence for this seemingly heretical position, some overarching context is needed, namely, the economic and infrastructure implications of catering to a large inflow of tourists.
From an economic perspective, we are faced with five tourism constraints: (1) low economies of scale which makes what we produce comparatively expensive; (2) negative trade imbalances (we buy much and sell little) which increase our debt levels and interest payments; (3) a near pre-industrial level of limited production and low productivity in the key agriculture and construction industries which inflate both input and output costs; (4) a lower middle-income wage level that renders labour costs higher than in many other even tourist destinations; and (5) an uncompetitive tax regime (anti-business import duties, anti-consumption VAT levels, and growth-depressing personal and business tax rates). Taken together, these constraints make our mainland a globally expensive tropical place to visit.
As for infrastructure and allied services, our main roads are very narrow and poorly maintained in most areas, secondary roads leading to many of our tourist sites are barely passable, even by four-wheel drive vehicles, our medical services are so substandard that anyone who can afford to do so travels overseas for even minor treatment, our policing, fire fighting, and emergency services are worse than inadequate, and our basic tourist amenities ranging from road signs, to public washrooms, to free Internet provision, to restaurants and minimally acceptable bars outside the Kingstown to Calliaqua area, are virtually non-existent.
This is the extant context within which we must judge the quality and quantity of our mainland tourist attractions. Conversely, it is important to ask what amenities, features, and attractions we lack and how this has affected and will continue to affect our tourist numbers, a consideration which implicitly informs each of the following headings: urban delights; seaside delights; historical treasures; and rural pleasures.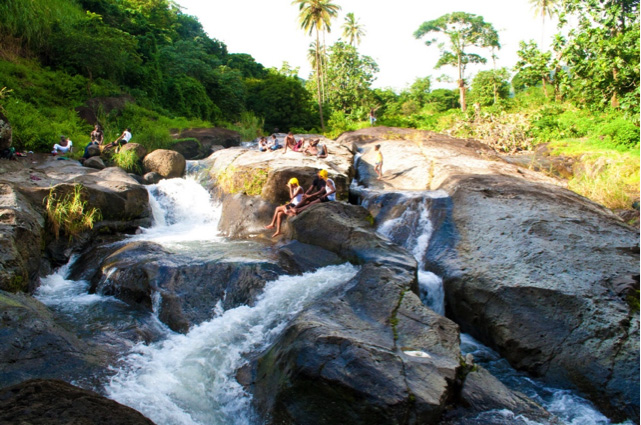 (Personal disclosure: I have visited all the following sites except two — the Falls of Baleine and the Cumberland nature trail — at least once. I have omitted many others that I have also visited because they are hardly worth mentioning, even in passing. Apart from dozens of trips ranging from several days to several weeks by plane, train, bus, and car all over America, Canada, and England to visit their world class tourist attractions, I have holidayed throughout the Caribbean in Cuba, Puerto Rico (twice), Jamaica, Saint Martin (Sint Maarten/Saint-Martin) (twice), Martinique, Dominica (four times), St. Lucia (twice), Barbados (five times), the Grenadines (countless times), Grenada (twice), Trinidad (twice), Tobago, Curacao, and Aruba, experiences that inform my evaluation, if only subliminally, of our own tourist attractions.)
Urban delights. Despite the many cobblestone streets and protective and attractive arches in many sections of town, outstanding features not found in most other Caribbean capitals, Kingstown is now one of the least appealing and interesting small cities in the entire Caribbean. Rundown, neglected, dirty, smelly, noisy, rat infested, congested with unregulated street vendors who rule the sidewalks as if they belong only to them, justifying this ownership by forcing pedestrians to trod on the dangerous roads or in the filthy gutters, lacking even minimally acceptable public toilet facilities, containing only one scruffy public seating area outside the courthouse, too unsafe for an after-dark stroll but otherwise lacking in appealing night-time activity except during Carnival and Nine Mornings — our capital is hardly a noteworthy tourist attraction.
Historical treasures. Nevertheless, the capital does contain two historical treasures. (Though we have three old churches, they hardly compare in grandeur to the cathedrals available in the home countries of many overseas visitors. This also applies to many of our other attractions, another reason I will not mention them again.) Though a pale imitation of the gardens of yesteryear, largely due to inadequate funding and indifferent maintenance, our Botanical Gardens, perhaps the oldest in the New World, is still worth a visit even though it does not come close today to matching its public and private counterparts elsewhere in the Caribbean. Then there is the still well preserved but slowly eroding and neglected Fort Charlotte bastion overlooking Kingstown (probably the most intact citadel in the English-speaking Caribbean). The spectacular view alone is worth a leisurely visit but this feature by itself without auxiliary add-ons like comfortable seating, shelter from the hot rays of the sun, a bar-and-grill or full-service restaurant, a gift shop, nightly entertainment and/or open air dining, together with upgraded adventure oriented features like zip-lining down to the sea, have never allowed the fort to come close to reaching its tourism potential. But all these additions would presuppose much higher tourist visits, a classic Catch-22 dilemma if there ever was one because many more visitors would not come to SVI just because we have an old colonial-era fort with lots of interesting amenities.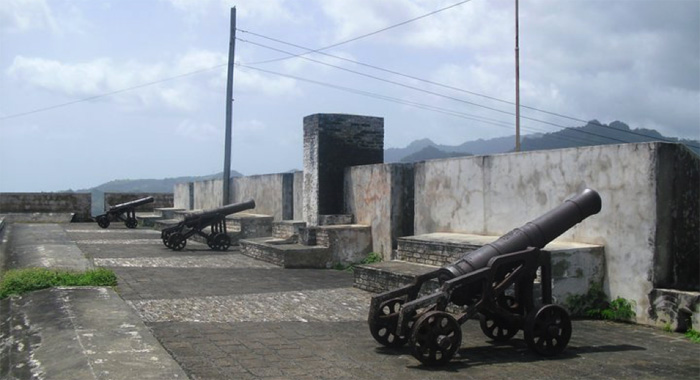 Seaside delights. Apart from the Owia salt pond, our sole potential seaside delight is our many beaches. Unfortunately, the prospect of our beaches generating more tourist interest is a hypothetical illusion — indeed a fatal negative feature if there ever was one in the tropical holiday business — because they are composed of hot and unattractive course black volcanic sand and because the only mixed white-grey beaches on the south coast are not only too short and narrow for intensive use but are already occupied by small hotels and private homes and plagued by pollution from leaking septic tanks and other sources.
Rural pleasures. We do indeed have several rural attractions including a semi-active volcano, waterfalls, scenic vistas, and other delights.
La Soufriere volcano cross-country trail. Arguably our number one wilderness hiking attraction and the only climbable, high altitude steaming volcano that I know of in the Caribbean, this feature nevertheless lacks appropriate infrastructure at the base or even a portable toilet at the summit. But it has much potential, especially for zip-lining (as in walking up the windward side and zip-lining down the more challenging leeward portion). But this could only be provided by a private entity which would only do so if enough fee-paying visitors were assured (a lack of which led to the closure of the awesome overhead rainforest tram attraction in Dominica in 2012 after losing money for eight of the nine years it was in operation). But this leads right back to the previous Catch-22, especially since the trail (unlike the overhead tram in Dominica) is only suitable for those who are physically fit.
Waterfalls. There are three in the north Leeward area. Trinity Falls which is closed, presumably due to the risk of life-threatening torrential river flows which have led to the loss of life in the past; the remote Falls of Baleine which is periodically closed or labelled "use at your own risk" by the SVG Tourism Authority because of possible rockslides; and Dark View Falls which has only a very shallow ice-cold pool.
Nature trails. We have two good rainforest nature trails – one at Vermont (which I have enjoyed traversing on two occasions) and one at Cumberland — both worth a leisurely trek but neither comparable to similar forest paths in scenery, variety of vegetation, or level of maintenance found elsewhere in the region.
Scenic views. In addition to the urban and seaside views from Fort Charlotte, there are three excellent rural vistas: the majestic Mesopotamia lookout onto the agricultural lands in the Marriaqua Valley, the glorious interior and ocean views between Barrouallie and Chateaubelair, and the attractive seaside vistas from Colonarie to Fancy.
Other attractions. These include the tiny Wallilabou Heritage Park, not worth more than a 15-30 minute visit; Montreal Gardens in the Mesopotamia Valley, closed for over a year now; the windward Owia Salt Pond, deserving a half-day picnic visit if only for the delightful ocean scenery; the Layou petroglyph ("marked stone"), a rustic and unfinished-looking facility not worth more than a few minutes attention; Table Rock on the Buccament River in the Vermont Valley with three tiny waterfalls and a small pool; and the unkempt Windward seaside Rawacou Recreation Park.
Yes, we do have several attractions on SVI. But except for Fort Charlotte, the Soufriere trek, and the Leeward and Windward scenic vistas, none come close to matching similar attractions in the nearby islands of St. Lucia, Grenada, and Tobago.
In addition, I estimate that our two historical treasures — Fort Charlotte and the Botanical Gardens — usually attract no more than 100 people per cruise ship visit, or less than 5 per cent, of the average of 2,200 guests carried by holiday passenger ships docking at Kingstown, even though these two free attractions are so close to the cruise ship terminal. Why would we expect stayover airline passengers to want to visit them in greater numbers?
More important, could we ever expect more international tourists to come to our mainland just to visit our ramshackle capital when they could choose to visit magnificent cities like New York, New Orleans, London, Paris, Rome, Venice, and Cape Town instead, the only added incentive being a nonstop flight to Argyle.
And why would we expect more beach-loving tourists to visit now that AIA is operational when we have no beaches or seaside to love? Ask renowned travel writer, Fred Garth, who recently ranked the elite Grenadines resort island of Petit St. Vincent as one of the world's 10 best scuba diving resorts.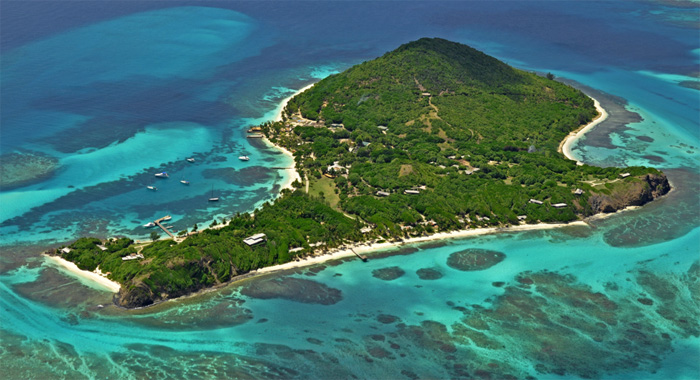 Better still, ask Pace Developments Inc., a relatively small Toronto construction company with little international presence or experience, which is blindly funding a large US$60 million resort on an unappealing black sand beach at an unwanted site at Peter's Hope.
More important still, ask the Comrade to justify his statement that the mainland, the destination for which AIA was constructed to attract thousands of new international tourists, "… has the most diversified and fascinating tourism product in the Caribbean."
***
This is the 55th in a series of essays on the AIA folly. My other AIA essays are listed below:
The views expressed herein are those of the writer and do not necessarily represent the opinions or editorial position of iWitness News. Opinion pieces can be submitted to [email protected]