By C ben-David
"It is well-established that St. Vincent and the Grenadines [SVG] has the most diversified and fascinating tourism product in the Caribbean" (Honourable Prime Minister Dr. Ralph E. Gonsalves, An Apex Moment, Commemorative Magazine, Interactive Media Limited, February 14, 2017, p. 13).
***
In my last submission (see essay number 55 below), I argued that although we have some nice tourist attractions on St. Vincent Island (SVI), only a couple come close to matching or exceeded what is available in the nearby islands of St. Lucia, Grenada, and Tobago. But even these pale to insignificance compared to the many outstanding eco- and mass-tourism attractions in popular circum-Caribbean destinations like Florida, Mexico, Belize, Costa Rica, the Bahamas, Cuba, Puerto Rico, the Dominican Republic, Jamaica, Martinique, and Dominica. If extra-Caribbean tropical areas are including, SVI becomes a tourism nonentity.
As for the Prime Minister's words above, written in an essay to commemorate the opening of Argyle International Airport (AIA) on Feb. 14, if any reputable tourism body has ever claimed that SVG has the "… most diversified and fascinating tourism product in the Caribbean," it would be about the combined 32 islands and cays that make up our country, a spurious vacation grouping if there ever was one since the Grenadines are unaffected by AIA if only because the cheapest, most convenient, and most frequent air access to the Grenadines — where our most popular tourist attraction lie — would remain flying there from Florida, Barbados, St. Lucia, Grenada, or Trinidad. Conversely, if the Prime Minister were referencing only the mainland, his assertion would have guaranteed us an international airport fully financed by our British colonial overlords in the 1960s to supplement or replace the regional one at Arnos Vale that has now been abandoned.
Notwithstanding these considerations, a complete analysis requires assessing how the attractions I listed in my last essay compare to those of our neighbours. This cannot be done with complete accuracy given the absence of hard data judging their quality using side-by-side impartial rankings by tourists and travel experts who have visited several different islands.
Nevertheless, some indirect and telling comparisons are possible based on the following data.
First, a search for SVI among lists of the world's 10, 20, 50, and 100 most desirable tropical islands comes up with no results; neither does SVI appear on any assessment of tropical islands with the world's 10, 20, 50, or 100 best beaches. Both rankings, however, name some 20 other Caribbean islands.
Second, a recent study by Business Insider, a popular online commerce site, using an "accessibility, average cost of a hotel room, number of attractions, and a beach density index score" to rank 25 Caribbean islands saw SVG in last place behind Anguilla (23), Dominica (21) Monserrat (15), and St. Barts (7), all islands without international airports.
Third, the huge Microsoft msn.com portal does not mention SVG in its list of the top 25 Caribbean tourist islands while naming five others – US Virgin Islands, Dominica, Anguilla, Monserrat, and St. Barts — with no international airport.
Fourth, though there is no mention of SVI, our famous Tobago Keys makes the "10 Under the Radar Caribbean Islands" list — none of which have an international airport — compiled by travel site Destination Tips (destinationtips.com) which describes it as, "… a dream destination for yacht charters, scuba divers, snorkelers and fishing enthusiasts. It boasts heavenly lagoons, teeming coral reefs and turquoise waters full of green turtles and tropical fish."
Fifth, of the 11 top-rated tourist attractions on SVG listed by the popular travel site PlanetWare.com, eight are in our tiny but captivating Grenadines, which the website rightly calls the country's "real highlight." (The three on the mainland are Kingstown, the botanical gardens, and the leeward highway.)
To supplement these qualitative assessments, a more direct comparison based on the sheer number of local tourist attractions can be made from data gathered by the world's largest Internet travel site, tripadvisor, using its "things to do" listings (see Table 1).
Table 1. Tripadvisor's "things to do" on four Caribbean islands
| | | | | |
| --- | --- | --- | --- | --- |
| | St. Vincent Island | Barbados | St. Lucia | Grenada |
| Nature & Parks |          25 |          60 |          82 |          45 |
| Sights & Landmarks |          14 |          52 |          31 |          28 |
| Outdoor Activities |          16 |        161 |        164 |          58 |
| Tours |            9 |        136 |        173 |          62 |
| Total "Things to Do" |          67 |        409 |        450 |        193 |
| 2015 stopover visitors | 50,271 | 591,872 | 344,908 | 140,735 |
Table 1 shows how few "things to do" there are on our mainland compared to our closest three neighbours, an observation that corresponds to the view of many of our own people who often complain about how boring life is on the mainland. The data also show a rough correlation between "things to do" and the number of stopover airport visitors, the inconsistency between Barbados and St. Lucia being partly linked to Barbados' much larger population and how this reflects the holiday and other visits by Bajans residing elsewhere. This discrepancy also reflects Barbados' relatively small number of off-beach attractions: it is a country primarily known as an idyllic destination for a lazy beach vacation. The island has 61 impressive white and pink sand beaches totalling over 70 miles (110 km) in length; St. Lucia has 23 beaches, several of them less than ideal. Conversely, St. Lucia has far more off-beach attractions of all types (as reflected in the above figures for "nature & parks" and "tours").
Those who would argue that the greater number of "things to do" in Barbados, St. Lucia, and Grenada reflects the long-standing presence of their international airports need to know that nearly all of the "nature & parks" and "sights & landmarks" were in place long before an international airport was ever dreamed of; that, except for many "outdoor activities" in Barbados, the foundation or potential for most of the rest was long present on these islands; and that the "tours" are a product of increased tourist numbers, not the other way around.
So, where does all this leave our mainland? First, we clearly have comparatively few first-class attractions. Second, we lack the miles of white sand beaches to compensate for the absence of many other "things to do." Taken together, this explains why our tourism numbers are so low compared to Dominica (see essay number 37) which also lacks white sand beaches and an international airport but partially compensates for this with its huge array of far superior eco-tourism attractions (see essay 7).
Simply stated, whether we like it or not, our big island tourist delights – as nice as some of them may be — are simply insufficient in number, quality, and variety to attract thousands more overseas holiday visitors regardless of the presence of a brand new international airport at Argyle or the construction of a new resort at Peter's Hope.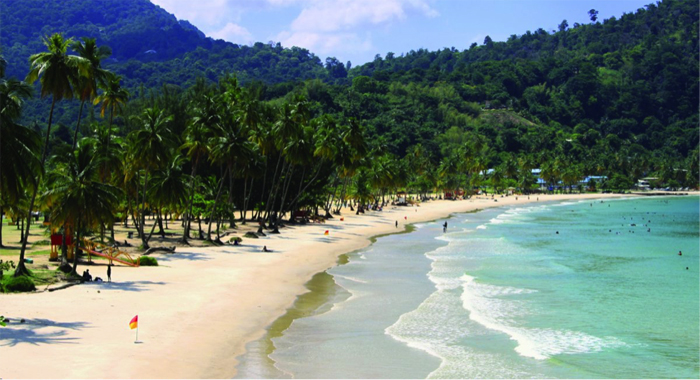 There is no shame acknowledging that the mainland is not a desirable tourist destination compared to other places, including most of all our very own Grenadines. This is just a fact of nature over which we have no control. What is shameful is our refusal to accept the beautiful and beloved island that God has given us for what it is by making the most of its non-tourism potential.
At the end of our long, convoluted, and expensive road to Argyle airport we are bound to find that having built it, they — the international airlines, the prestige hoteliers, and the affluent First World tourists — will still not come in sufficient numbers three, five, or 10 years from now to have made the effort worthwhile, confirming my assertion that an international airport is neither necessary nor sufficient to precipitate a flourishing tourist industry.
Shame on us for having been fooled by our political, economic, and intellectual elites into believing otherwise.
***
This is the 55th in a series of essays on the AIA folly. My other AIA essays are listed below:
The views expressed herein are those of the writer and do not necessarily represent the opinions or editorial position of iWitness News. Opinion pieces can be submitted to [email protected]