By C ben-David
"I would expect that we would begin to see regular flights [from Argyle International Airport (AIA)] for the next tourist season, which is the November tourist season" (Honourable Dr. Ralph E. Gonsalves, Prime Minister, St. Vincent and the Grenadines [SVG], March 27, 2017).
If we want a preview of AIA for, "regular flights for the next tourist season, which is the November tourist season," and many tourist seasons to come, there is no better place to look than Cheddi Jagan International Airport (CJIA), the national airport of Guyana.
Located 41 km (25 mi) south of the capital, Georgetown, the airport was born in 1941 as a World War II American airfield. The 99-year lease of the facility by the United States was formally terminated on 26 May 1966, Guyana's day of independence from Great Britain, thereby granting the new country a debt-free airport.
CJIA is currently undergoing a US$200 million modernisation and expansion expected to be completed by the end of 2017.
Despite its long history and plans for future growth, the airport has always had difficulty attracting enough airlines, especially reputable ones, an issue that has plagued AIA for at least seven years preceding its Feb. 14 opening.
Both Insel Air and Flyallways Airlines recently ended their service to Guyana when financial and airworthiness issues saw them grounded. Caribbean Airlines (CAL) is now the only regular scheduled carrier plying the New York-Georgetown route. But their round-trip airfares from JFK airport are at an all-time high again and the government has failed to contract with established North American carriers. A typical CAL New York-Georgetown return flight costs US$1,100; a similar CAL round-trip flight from New York to nearby Trinidad costs US$574, or less than half that amount.
The same price differentials hold for non-stop travel to St. Vincent Island. As of July 3, the cheapest one-way, non-stop flight from Toronto to St. Vincent Island (SVI) via Air Canada on Dec. 14 is EC$2,500 while the cheapest one-way ticket to nearby Barbados is EC$741, or 3.4 times less. Comparing the same "Economy Latitude" services fares for Dec. 14 still sees a price differential of EC$510 for a single ticket.
What these price differentials mean is that budget conscious travellers — a cohort that has always made up the bulk of flyers all across the globe — departing from Toronto would readily choose to transit through Barbados on this and other dates like it, debunking the "convenience enhancing" argument for the construction of AIA in the process.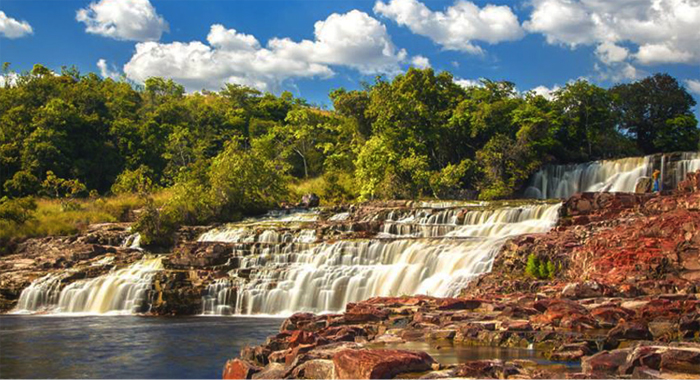 As for Guyana, Fly Jamaica and Dynamic Airlines, both discount charter companies, also ply the New York-Georgetown route while reincarnated Eastern Airlines, now only a charter outfit, flies nonstop from Miami. But the service of all three has featured chronic delays and cancellations.
Dynamic Airways, a non-scheduled US-owned airline that services the New York- Georgetown route about four times weekly, is notorious for being late, cancelling flights, and stranding passengers. On April 13, 2017, it was ordered by the United States Department of Transportation to pay US$120,000 in penalties for terminating several flights, failing to notify passengers in a timely manner about delays or cancellations, and refusing to issue refunds. Still, its low fares attract lots of budget passengers as do those of the other charter operators.
Guyana has such poor air service based on the law of supply and demand. It is simply a small market for visitors: only 207,000 tourists and other overnight guests arrived in 2015. Compared to us, if it is assumed that half of these flyers were visitors from outside the Caribbean and South America, this figure would still be over five times the 20,000 or so international visitors who landed at E. T. Joshua Airport in 2015 (see essay number 33 below).
Even with so many more annual stopover airline holiday visitors than us and a sustained growth in annual arrivals, something we also lack, most international flights to Guyana connect through Jamaica, Barbados, or Trinidad, as do all flights from Europe.
That President David Granger's administration has yet to attract a reputable North American carrier to Guyana since coming to office in May 2015, despite the millions being spent to modernise and enlarge the airport, should be a warning to us as well. So should the fact that Guyana's mega oil discoveries and a US$5 billion investment by ExxonMobil to extract and market its petroleum resources may soon give the government a bargaining chip to attract foreign carriers that we lack.
Guyana is also plagued by its New York-bound planes being used to transport cocaine (see essay number 46), why Delta Airlines pulled out in 2013. Efforts to get Delta back have failed, as have attempts to get popular JetBlue to service the country.
Given that SVG's tourism authority has been able to secure a meagre 17 Air Canada return flights from Toronto between Dec. 14, 2017 and April 12, 2018 on that airline's smallest plane capable of flying nonstop to AIA (see essay number 54 below) and a paltry seven return Sunwing charter flights from Toronto between Oct. 22 to Jan. 14 says that we are destined to replicate Guyana's air transport woes but on a much larger scale. Based on my earlier estimates (see essay 54 below), these 24 flights, if fully occupied, would add a mere 600 additional foreign tourist visitors who would not be flying to the mainland save for the alleged convenience of being able to fly nonstop from Toronto.
Our very own illegal drug problem has been the trans-shipment by plane and boat of marijuana and cocaine: SVG has always rated as the top marijuana producer in the Eastern Caribbean and cocaine from Venezuela and Trinidad easily find their way here for local consumption or transit elsewhere.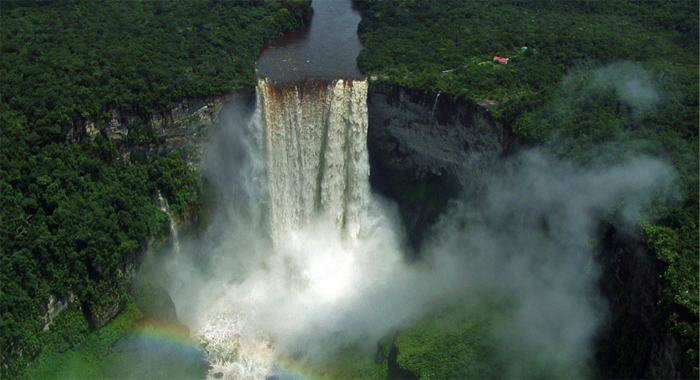 Guyana's other bargaining chip to get more brand-name carriers to service its airport, one we also lack on the mainland, is the vast potential to enhance and promote its nearly limitless and largely untapped eco-tourism and traditional mass tourism resources which feature: an Atlantic coastal belt that stretches 270 miles and contains a pristine white sand beachfront and diverse coastal and ocean ecosystem, including Shell Beach which extends some 90 miles along an undisturbed coastline in northwest Guyana and 63 Beach Berbice on the southeast Atlantic coast which stretches for 10 miles; the North Rupununi Wetland which covers 54,000 acres — over half the area of St. Vincent Island (SVI) — and is home to 400 species of fish; tens of thousands of acres of untouched savannahs which support hundreds of species of wildlife, including jaguars; river resorts which provide many amenities, often including private beaches; an immense tropical forest area of 37 million acres — 43 times the area of SVI — much of it ideally suited for wilderness tourism; and more than 300 glorious waterfalls of all shapes and sizes.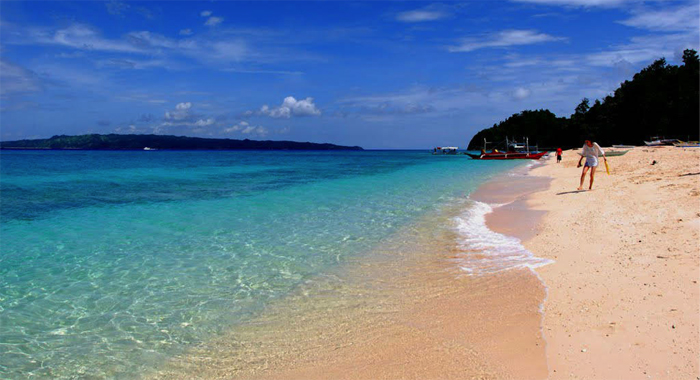 Guyana's current airport troubles, together with its long-term potential, give no reason to be optimistic about the success of AIA, a facility for which the Prime Minister has spuriously used, "…. the limitations of air access … due to the absence of an international airport" as its main public relations selling point since 2005. Even if we increased our international vacation passenger numbers to 50,000 a year over the next decade, a miracle of biblical proportions if there ever was one, but still half of convenience-challenged Guyana, we would still be hamstrung with an airport with only a handful of regularly scheduled and charter nonstop flights from North America every week, hardly sufficient to address AIA's EC$400 million debt and EC$20 million annual operating costs.
Unlike Guyana, we have no bargaining chips except to grant crippling concessions to regularly scheduled carriers and exorbitant upfront fees for occasional charter flights, both of which would add to our country's ruinous debt. This is why the experience of Guyana and the contents of Glen Beache's recent speech in Montreal teach us that AIA is an airport without a cause (see essay 11).
***
This is the 57th in a series of essays on the AIA folly. My other AIA essays are listed below:
The views expressed herein are those of the writer and do not necessarily represent the opinions or editorial position of iWitness News. Opinion pieces can be submitted to [email protected]